In our home, the utility room seems to be the communal junk room! It's that space behind closed doors where coats, shoes, laundry, dog food, leads, and all manner of stuff seem to find temporary residence.
It's my mission to organise this room into a lovely usable space.  It's a small area so storage bins and a good organisation system is a must.
I've been looking for some cute and affordable solutions to make this dark cluttered space warm and inviting and "hopefully" encourage others to put their things away properly. Although somehow I think that may still be a bit too much to ask!!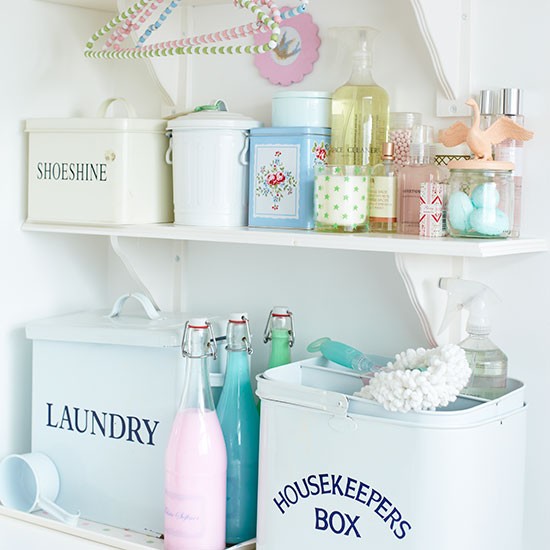 Shabby chic shelving and pastel containers and bottles gives a retro feel to this small area. Image from House To Home
The dead space at the end of this room has been transformed into a laundry area complete with folding area and drying rack. Image from Home Design
This powder blue laundry room captures the spring feel of fresh linen. Wicker baskets and clever under counter laundry bins keep everything tidy. Image from One William Designs
If space is a premium, jars glued to under shelves is a great way to utilise wasted space.  Image from Shelterness
I love love love this idea for storing your laundry essentials.  Image from Emerald Interior Design
A dedicated space for essentials makes life easier especially when organising small spaces. Attach a pin board to the back of a cupboard to hold everyday essentials. Images from House to Home
In this image from Houzz.com a reclaimed worktop, Belfast sink and wicker baskets gives a gorgeous rustic feel to this space.
I hope you enjoyed this article. Please leave a comment or share any tips you may have to keep your utility room organised and tidy. Want more designer tricks, tips and trade secrets, delivered to your inbox, all for FREE? Subscribe to my newsletter in the box below.  You can also find me on Facebook and Twitter