Working from home has many advantages, no traffic jams, you don't have to have your hair and make up done if you don't want to and you can even take a sneaky extended lunch break without getting into trouble with the boss!  But it can be also be a lonely atmosphere to work in and can lead to low motivation levels and procrastination, so having a bright and pleasant working space if vital to keep the adrenalin going.
But not everyone has a spare room they can dedicate to a home office.  Fear not, with clever planning you can fit an office area into the smallest of spaces.
Closet Work Spaces
Who says you have to give over the entire spare room to your office space.  Planned correctly, the closet can be space enough and you simply close the door if you have guests staying over.
Under The Stairs.
Put the wasted space under the stairs to good use.
You don't even need to have built in furniture.  A simple but neat writing bureau can be beautiful as well as practical.
Grab an Alcove
If you have a nook or alcove in your home, it can be the ideal space to fit in your working area.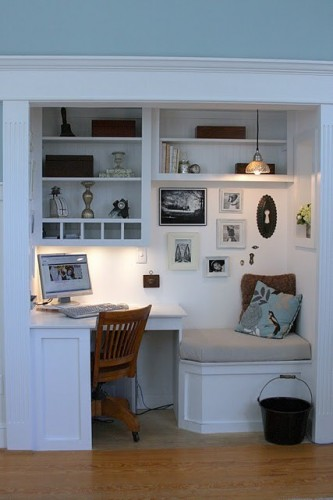 This ladder desk is a great idea where space is at a premium.
Grab a Window
Natural light is always a bonus when working.  If possible position your office space near a window.
Here the use of a glass desk minimises the impact the desk area has on the space, giving an illusion of more space.
Use What You've Got
Use your existing furniture.  Here a vintage dresser is a wonderful home for the desk and computer area.
A linen box is an excellent place to keep papers and files out of sight.
I hope I've given you some inspiration and proved that you don't need a lot of space to set up your home office.
Another little tip for working from home is to keep something fun or inspirational or personal close to your work space.  Something that will make you smile and keep you motivated.