The fight for wardrobe space can be a very contentious issue among couples!
There was a time when it was the woman of the home who hogged all the premier space and hubby had to settle for a dark corner at the back of the wardrobe in the spare room (if he was lucky).  These days however, men can have just as many if not more clothes than us and are beginning to take over the wardrobe space!
One room on my Dream Home Wish List, is a walk in dressing room to house my huge collection of clothes from designers such as Marcelle et Spence and Dun-nez Boutique 😛
When we think of dressing rooms, we tend to think of hollywood celebrities with row after row of their red carpet collections. But that needn't be the case. A dressing area can range from a simple wall mounted modular system to an extravagant boudoir to house your Louboutin collection.
A simple modular hanging system from Elfa Closet
A lavish custom-made dressing room from
Michael Fullen Design Group on Houzz.com
If you and your better half are in a "War of the Robes" why not consider turning a spare room into a walk in closet.  Here's some idea's to whet your appetite:-
Got shoes…. You'll never have to crawl under the bed again. Image from Houzz.com 
A very feminine dressing area from Pinterest 

I love the wall paper behind this pretty closet space.  Image from Cococozy.com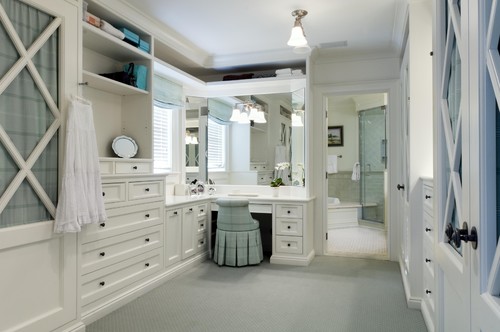 The dressing room attached to the bathroom gives a nice flow to the space.  Although I think a dramatic chandelier would have finished off this room beautifully.   Image from Houzz.com
Another dressing room which flows directly into the en-suite. Source Cococozy.com
A walk in dressing room needn't cost the earth.  This well stocked dressing room is in the rented home of blogger, Domestic Jenny.
Another simple modular system with plenty of shoe storage. Image from Pinterest.com
What do you think, could you live with a walk in dressing area? Leave a comment below, I'd love to hear your thoughts.
*****     *****     *****     *****
If you enjoyed this post why not head over to my Facebook page, or you can follow me on Pinterest or Twitter.  Details of my Interior Design services can be found on my Website