It's that time of the year again! The season when we turn our warm welcoming homes into ghostly ghoulish dens of doom!!!  And all because we want to scare the bejeepers out of our family, friends and neighbours! What a wonderful bunch we are 😛
And of course I'm here to help.  So if you're looking for some bewitching ways to make your home spooktastic for Halloween, grab your broomstick and read on…….
Set the tone by adding a couple of little bat silhouettes to your lamp shades. Visit Young House Love for instructions on how to add these to your shades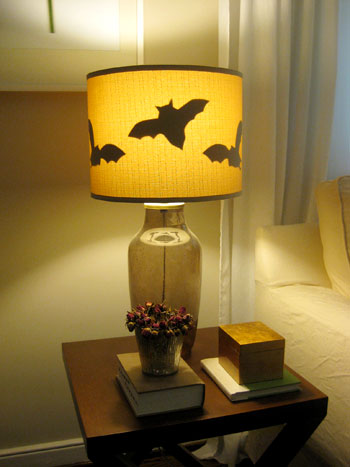 Now I'm not suggesting you paint your front door green, but you have to admit this Frankenstein Front Door is pretty cool. It's a great project to do with the kids as it's so easy to make.  Pop over to East Coast Creative's Blog for instructions on how to make it.
I've blogged about window silhouettes before but they seem to be getting better and better each year.
Images from Shelterness
Or you could make an eerie entrance table with twisted branches adorned with spiders webs and deadly insects. There's even a snowy owl! Image from My Home Ideas
Sit if you dare.  Your guests won't outstay their welcome if you invite them to sit in this cosy corner.
Image from Styleathome.com
 But it needn't be all spooky, I think this hall table arrangement is actually quite pretty.
Have you any ghastly plans for the bank holiday?