This post was written by Geoffry Beaulieu, a real estate and interior design writer. You can find him on Google+.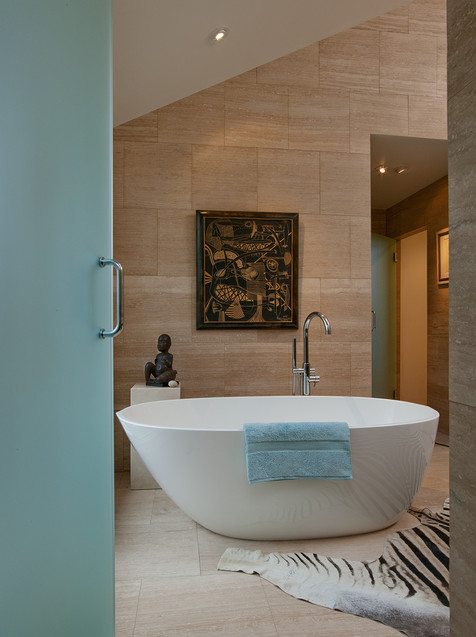 Image source : Houzz
If you're looking to redecorate your bathroom which hasn't been updated since the 70s, look no further. Kill two birds with one stone when you're replacing your old tiling and extend the palette to your walls as well, with some large tiles.
Image source : BHG
Not enough storage space in your bathroom? Think outside the box – literally. Use wall studs to your advantage and build some drawers into the space between them for extra storage space.
 Image source : Comfree Saskatchewan
Utilise your corners! An interesting way to display your bath tub is to put it at an angle, working with the corners of a smaller bathroom. Make sure to use the space between the tub and the walls by putting some small shelves (or a re-purposed bar stool, as seen here) for your bath time reading and wine glass.
Image Source : Pinterest
Re-purpose an old french door with a fresh paint job and use it as a shower door. You'll see that there's a shower curtain on the inside of the door to protect the door and washroom (among other things).
 Image source : Buzz Buzz Homes
This one's a bit less easy to recreate, but if you're in a secluded area (or a New York high rise), consider forgoing curtains and blinds for a clean, streamlined look.