One of life's First World Problems is the nuisance of multiple charging cables for smart phones, ipads, tablets and the countless other mobile devices that we couldn't possibly live without these days.
Not only are they unsightly but if you're anything like me, more often than not I forget which socket I've plugged them in to and then have to run around the house like a lunatic trying to locate my phone if I hear it ring.
Well I am about to make your life a lot easier……..
Here are 11 brilliant ways to create your own DIY mobile device charging station.
1. Breadbox Charging Station
This genius idea is from Kim over at The Kim Six Fix. She was looking for a way to disguise the multiple devices that were constantly charging on her kitchen counter.  I think its safe to say she nailed it!
2. Drawers of Space
This one would work great on a small console or bedside table.  Simply put an extension cable in a drawer, drill a hole in the back of a drawer and pull the cable through.  Simple but effective out of sight storage.
Image source: Pinterest
3. Bathroom Caddy Phone Holder
If you don't have many devices but still want to keep the cables out of sight, a simple bathroom caddy (you know the ones with the suction cups that don't need drilling), can keep the clutter at bay.
Image source: My Blue Daisy
4. Shoe Boxes Aren't Just For Shoes
A stylish shoe box can make a pretty charger box in a bedroom.
Image source: Pinterest
5. Recycle your old cassette tape cases
Now I'm aware that only some of us of a certain age will even know what a cassette tape actually is! But if you do fall into that category here's a clever way to store your phone while it's charging.
Image source: funpedia
 6. Convert An Organisation Box
Missy Luukkonen from the little green bean turned a paper organisation box on its side, drilled some holes and has created a very effective charging station for all the family.  Click here to see the instructions.
7. Convert A Letter Holder
Another simple yet effect solution is to simply drill some holes in the back of a household letter sorter and voila
Image source: Belle Amie
8. Lego Cord Holder
This is such a cute little idea and will save you from crawling around on the floor under your desk, chasing cables when you want to charge your devices 🙂
Image source: Modernistic Design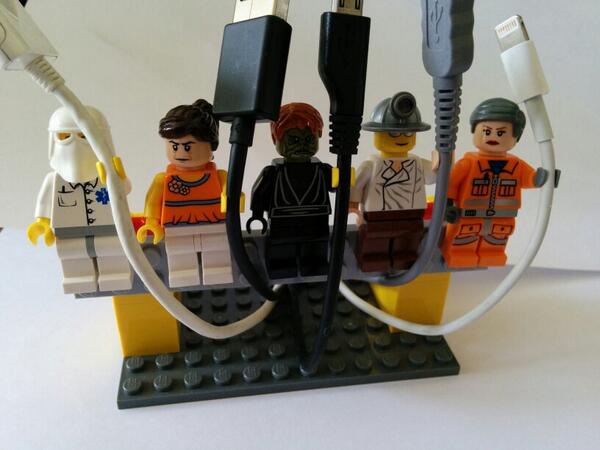 Image source: Twitter
9.  Recycle an old lotion bottle
No more phones dangling precariously over the counter top when charging! This is a very cheap and simple way to keep your phone secure while you're charging it.  Check out Make It Love It for the full tutorial.
10. Get another wear out of those old jeans!
Image source: Pinterest
And last but not least…….
11. So simple its genius!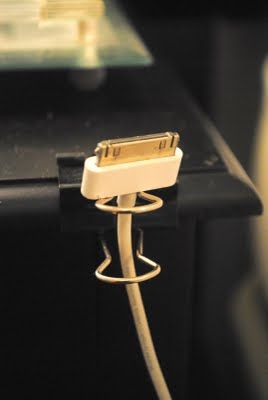 Image from Emerald Interior Design Pinterest Board