I am convinced that this week's weather is just a blip, and our upcoming summer is going to ammaaazzing  (say it three times Dorothy then click your heels!)
Last week the weather here was fabulous.  Glorious sunshine, high temperatures and not a cloud in the sky.  But this is Ireland!  So after 4 days sunshine, rain must follow!
It's often the case in this country that we only get to look out at summer, so we should at least have somewhere nice to sit and let the outside in.
If you're considering a kitchen extension, a pitched roof with sky lights will allow in plenty of light, while double doors will offer a view of the garden beyond.
Large bi-folding doors and matching floor tiles inside and out create a streamlined approach to the garden beyond.
One of the principal rules of design life is "less is more".  Sometimes all you need is a light bright room, a big table,  and a great view to the garden.
Forget the Man Cave, the She Shed has arrived.  How about this for a garden retreat?  Image from House to Home
Now that's what I call a garden shed.  This Garden home office in Kent comes complete with a Sedum roof and green walls.  I want to work from here! Image from Houzz.com
This modern glass box extension gives a perfect view to the garden.  Image from House to Home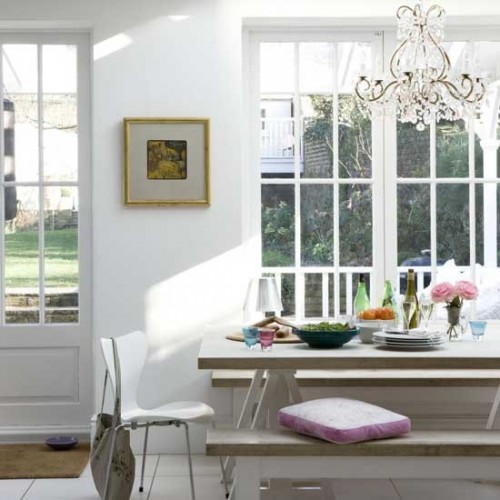 I love the pretty chandelier in this relaxed Dining area from House to Home
A very pretty conservatory complete with plenty of plants, a rustic table and an elegant chandelier.  Although I think a slate or limestone floor would have worked better here.  Image from Pinterest
If you enjoyed this post why not head over to my Facebook page, or follow me on Pinterest or Twitter.  Details of my Interior Design services can be found on my Website