Pantone have chosen Radiant Orchid. A captivating, magical, enigmatic purple, as the color of the year for 2014.
Even though my namesake Emerald Green was the 2013 colour of the year, it's not a shade I'm overly keen on.  But my, I do like Radiant Orchid.
While the 2013 color of the year, PANTONE 17-5641 Emerald, served as a symbol of growth, renewal and prosperity, Radiant Orchid reaches across the color wheel to intrigue the eye and spark the imagination," said Leatrice Eiseman, executive director of the Pantone Color Institute®. "An invitation to innovation, Radiant Orchid encourages expanded creativity and originality, which is increasingly valued in today's society."
"An enchanting harmony of fuchsia, purple and pink undertones, Radiant Orchid inspires confidence and emanates great joy, love and health. It is a captivating purple, one that draws you in with its beguiling charm."
Spruce up interior spaces by incorporating this eye-catching hue in paint, accent pieces and accessories. As adaptable as it is beautiful, Radiant Orchid complements olive and deeper hunter greens, and offers a gorgeous combination when paired with turquoise, teal and even light yellows.
Likewise, the vibrant color is sure to liven up neutrals including gray, beige and taupe. Uplifting and bold without being overpowering, Radiant Orchid re energizes almost any colour palette and provides a unifying element for diverse spaces.
Now I'm not one who believes you must be a follower of fashion when it comes to interior design, but I do see myself using these hues in the not too distant future.
Jamboree collection from Prestigious Textiles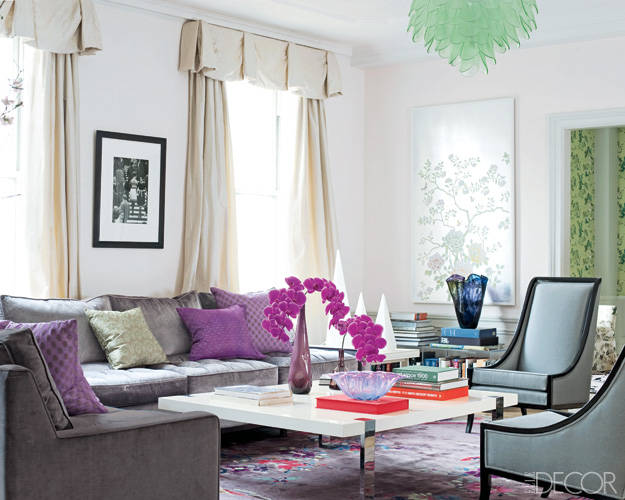 Source: ElleDecor
Source: Houzz.com
The Lotus Flower bed linen collection from Designers Guild
Image from Add A Splash Of Colour from Emerald Interior Design Blog
Source: Houzz.com
What do you think? Love this colour or hate it?