It may be miserable out there this morning, but as I'm always the optimist I just know the warm weather almost upon us!!
So in preparation for this long hot summer we're going to have 😛   now is the time to prepare your home for those long days of indoor/outdoor living.
1. Curb appeal
Make your house stand out from the rest by sprucing up your front garden and entrance. Sometimes all your exterior needs to look its very best is a little hair cut and a lift in landscaping.  Prune bushes and shrubs and spruce up your front garden with colourful planting and flowerbeds.  Fill hanging baskets with some seasonal trailing plants and place a few bright flower pots at the front door. Vary the plant and container sizes to add interest. 
2. Outside lighting
Outside lighting at the entrance to your home, not only enhances curb appeal but more importantly is an excellent security feature.
Image from Pinterest 
Enhance the back garden and create a place to relax after the sun goes down with outside lighting.  If your budget doesn't stretch to installing electric lights, place some hanging lights and lanterns so you can enjoy the garden late into the evening. (Glass of wine optional)
3. Revive your patio furniture
Capture the feeling of a summer with colourful outdoor furniture. Give drab, chipped or faded looking furniture a new lease of life with a lick of paint. 
Image from Emerald Interior Design @ Bloom 
4. Clean the barbie
Make sure the Barbecue is cleaned and ready to fire up in preparation for those long summer evenings. Give your grill a deep cleaning with these simple steps:
For gas BBQ's, turn the heat up to high and let the grill cook with the lid closed for about half an hour. Allow it to cool and then brush it off with a wire brush. Wipe down the exterior with a damp sponge and a gentle cleanser. Clean the drip pans.
For charcoal grills, empty the grill and wipe out all ash residue. Clean it inside and out with hot water, a scrubby sponge and some liquid dishwashing soap. Let it dry completely before using it again.
5. Pamper your plants
Deadhead perennials and annuals to keep them flowering. Pull out dead foliage from spring bulbs and add a layer of mulch to keep weeds down and help the ground retain its moisture. 
Image from Your Backyard
6. Organise your entrance hall
Keep dirt and mud contained with a boot tray near your front or back door.  Buy one that's easy to clean, or you can easily create your own with a little tray filled with pebble.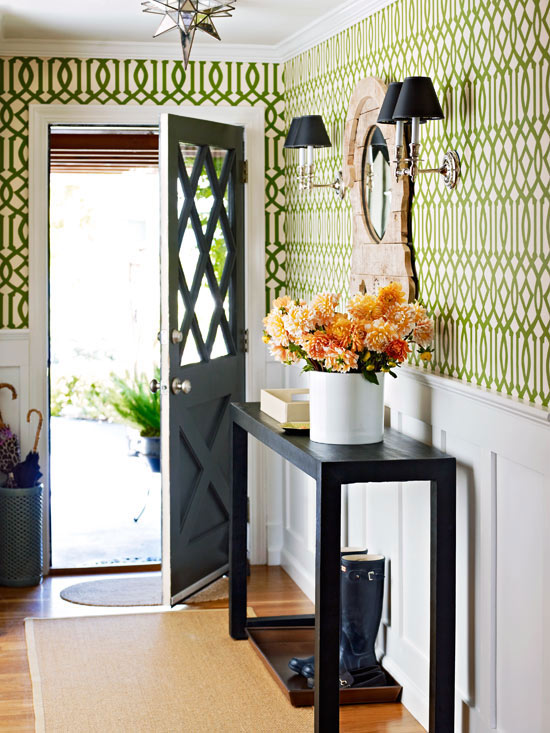 Image from Better Homes and Gardens
7. Bring the outside in
There is nothing nicer in a home than the smell of fresh-cut flowers.  Save money on expensive blooms by taking some fresh cuttings from your garden.
8. Banish the winter blues
Bring summer indoors with bright colourful accessories.  Pack away all those heavy rugs, throws and thick blankets and change your accent colours to reflect the warmer weather.
Image from Emerald Interior Design 
 And last but not least – get out and enjoy the sunshine……..hopefully 🙂