As much as I love a calm neutral backdrop to a design scheme (check out my post on designing with neutral tones), a bold pop of colour can bring fun and drama to an interior space.  Often all you need is a bolt of colourful cushions, a few colourful chairs, or a quirky signature piece to bring a room to life.
These bar stools inject a splash of colour into this white kitchen. Image from Better Homes and Gardens Australia
This white sofa and neutral backdrop jumps to life with the addition of these colourful cushions, rug and statement pieces. Image from vtwonen
Sometimes all you need are a few accent pieces. Image from Emerald Interior Design Pinterest Board (via House to Home)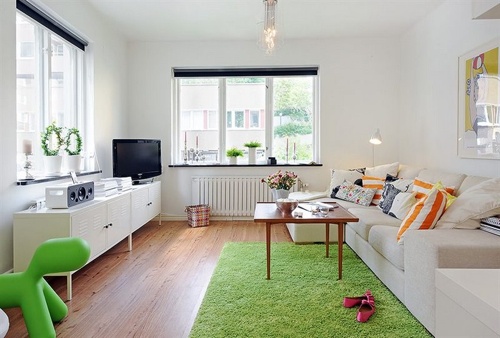 A lime green rug teamed with Ikea furnishings is both colourful and affordable. Image from Design Milk
A selection of mismatched chairs gives an airy cheerful feel to this room.  Image from Emerald Interior Design Blog
A single pink signature piece is all that is required to add personality to this space.  Image from Emerald Interior design Pinterest Board
This stunning Jonathan Adler rug from The Rug Company brings a beautiful blast of summer colour to this space.
I hope you enjoyed this post.  Why don't you pop over to my Pinterest page for ideas for all areas of your home.  You can also like me on Facebook, or follow me on twitter.  For information on my Interior Design services, please visit my website or click here to arrange a consultation.