With a little over 6 weeks to the dreaded Junior and Leaving Certificate exams, parents and teenagers all over the country are getting ready for what is probably the most stressful time of any teenagers life.  While they may be taking a little break from the books over the Easter Bank Holiday, it will be heads down from now until June.
Having a designated area for studying is important to keep the stress levels down.  (It's a difficult enough time for young brains, without trying to study sitting at the kitchen table, surrounded by the hustle and bustle of family life).
Whether it's an area of your teenagers bedroom, the attic or an under stair area, there are some important considerations to make the space workable:
A desk large enough to house a laptop with adequate space for books either side.
Lighting is a very important consideration.  While plenty of natural light is the optimum solution, a good lighting system to illuminate the room and study area is vital, especially for late night cramming!
An ergonomic chair that allows both feet to rest on the floor, while still giving access to the work-area is important for both posture and comfort.
Easy access to sockets for laptop, scanner, printer etc.
Plenty of storage for books, notepads, etc with everyday items within arms reach of the desk.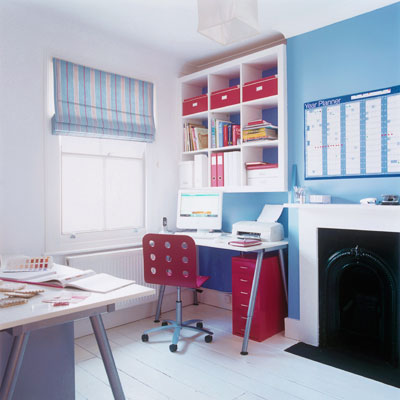 Wall mounted cubby holes allow quick and easy access to supplies. Image from This Old House
Two desks flanking a window turn an upstairs hallway into a light bright homework station.  Image from Family Circle
A ladder desk is a great idea where space is at a premium. Image from Emerald Interior Design – Tiny Home Office Spaces
A pin-board is a great idea for keeping all those post-its and study notes tidy yet within sight.  I love how the entire wall of this office has been upholstered to keep the space productive and creative. Image from Design Sponge
Over the door shoe organisers are great for storing a number of household items.  I've used them behind the hot press door to house spare toiletries and in my office to storage ribbon and cards for gift wrapping. Here they house a selection of stationery items.
A linen box is a great space saving solution to keep files and papers out of sight. Image from Emerald Interior Design – Get Organised Pinterest Board (via Marthastewart.com)
If you are studying for your Leaving Cert or the parent of a studying teen, I wish you all the luck in the world and hope the exams go well for you.
And as for the rest of us, we tend to like the two weeks of exams, because traditionally the sun always seems to shine in Ireland when the exams are on.  I think this image demonstrates it perfectly 🙂