When decorating a space, one of the most important elements is personality. Without it a space is clinical and boring.
Gallery walls are great way to inject your own personality into your space. They create a dramatic focal point and give an insight into the lives of those who live there.  But when it comes to choosing which photo's to display, I can be the most indecisive person on the planet.  An arrangement I may like on Monday could be totally out of favour with me by Friday!  Enter Picture Ledges.  They give me the freedom  to change and rearrange them as often as I like without having to punch more holes in my walls.
I've just put the Ribba picture Ledge from Ikea up in our hall. It's a narrow hallway and I wanted to add some interest above the radiator cover.
I chose black and white frames but I opted for colour photographs as I already have a black and white gallery wall in my office.
There are countless options and styles you can go with.  Here are just a few images I have found which I hope will get you inspired.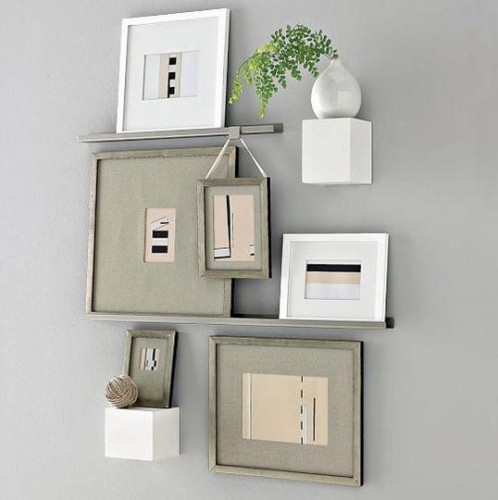 I love this display from Apartment Therapy I would work very well on a narrow wall.  I like the little block detail and the photo hung from the shelf is a nice touch.
How cute is this from Simply Nattie
Source: westelm.com
Source: alittledashofash.blogspot.com via Karen on Pinterest
You don't even have to use wood ledges.  Here some molding has been used to great effect.
I hope I've encouraged you to get your photographs off your hard drive and onto our walls and given you some ideas about displaying them.
If you're new here thanks for visiting. You can also find me on Facebook and Twitter  and you can subscribe to my RSS feed by entering your email in the link below.