Remember this?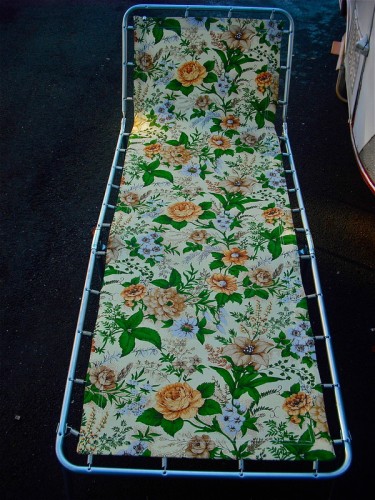 Thankfully the days of the floral sun lounger are long gone. Replaced by gorgeous outdoor fabrics where you can lie back, relax and just soak up the rays.
The new Ionia Outdoor collection from Osborne and Little is just suntastic!
Inspired by the light and sun of the Mediterranean, this collection of fabrics is named after islands in the Ionian Sea off the western coast of Greece.
There are some beautiful vibrant colours in the collection such as turquoise, lime, rust, denim with neutral tones of black, stone and ivory.
The fabrics are suitable for outdoor use being resistant to sunlight, water and mildew. They also have a stain repellent finish so all that sun block you'll need for our fine Irish weather won't stain the fabric!
Now all I need is the sunshine and someone to serve me my Vodka and Tonic 🙂
If for some strange unfathomable reason you still haven't liked my Facebook page, click your way there right now  😀   You can also follow me on Twitter and Pinterest or visit my Website for details of my services