I met with a prospective client yesterday and to my surprise, she was very anxious about meeting me.  I didn't realise I was that scary! [pullquote] Real life is rarely like TV and real Interior Design projects are never like TV Makeover shows.[/pullquote]
The reason she was so anxious is because she had never hired an Interior Designer before, and I think she had watched way too many TV Makeover shows than is healthy for one person 🙂
I soon allayed her concerns when I explained that these days a large portion of clients I meet have never used a designer before.  Gone are the days when the Interior Design profession was an elitist commodity.  (And rightly so I might add).  The Interior Design profession is like any other professional service who you employ when the need arises. Sure you could defend yourself in court if you had to, but chances are you would hire a member of the legal professional.
The same goes when decorating or renovating your house, yes you probably COULD do it, but why should you!
Saving time, money and confusion over the myriad of choices on the market today are prime reasons more and more people are opting to hire a Designer. So how do you go about it? Do you just google and hope for the best……. Not quite.
There a a number of things to consider when choosing your designer.
It's Personal
A design project can last several months so a good Client-Designer relationship is vital. You must connect with your designer or the process will not be a good experience.  You need to be able to trust this person, trust their judgement, their decision making.  The designer must be able to understand you, interpret your goals and what you want to achieve with your design.
Do Your Homework
Have a list of questions to ask them.  What type of projects they've worked on, have they worked on a project like yours before.  A good designer is passionate about what they do and will enjoy nothing better than to discuss their previous projects. The designer should explain the design process and how they work, their charge rates etc.
Budget
I'm often asked, "how much do you think it will cost?"  This is a "how long is a ball of string" question, as how much you end up spending is up to you.  But you must be realistic in your costings, if your budget won't stretch to getting everything you want immediately, your designer can plan to implement the project in stages.
Be honest with your designer about your budget.  If the designer has clear understanding of your budget, they will save valuable sourcing time by not choosing items outside your budgetary requirements.  And at the end of the day, you're paying them for their time.  Read about how to establish your budget here.
Describe Your Vision
You've probably been thinking about your project for quite a while before you decided to go ahead.  You've scoured the internet, flicked through magazines and articles for inspiration.
Think about you like in terms of colours, fabrics, styles, etc.  Make a Wish List of your "Must Haves" and "Would Like To Haves".  Your designer can help you prioritise these elements.
Construction Team
A good reliable construction team is vital on any project.  Most designers worth their salt will have a good construction team around them.  People who they work with on a regular basis and who they trust and know will respect you and your property.
Personal Taste
While every designer will have their own individual style, they need to be sympathetic to your design style.  It is their job to deliver a design which expresses your taste and lifestyle and is designed for the way you live.
The object of hiring an Interior Designer is to make your life easier, to save you money and to eliminate decorating disasters.  They will research, plan and design to deliver a concept designed on your lifestyle and vision.  Hiring the right designer is the difference in a good design project and a perfect design project.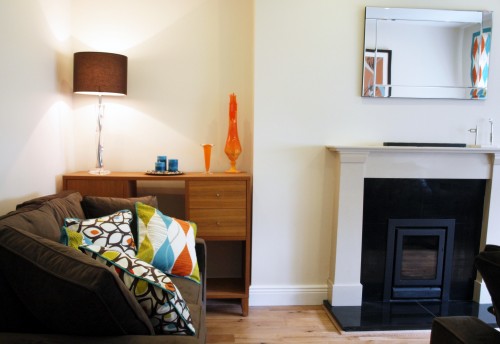 Karen Hughes is owner and director of Emerald Interior Design.  We are based in Castleknock, Dublin 15 and provide creative design solutions for residential and commercial clients.  Our projects vary from new builds to extensions; from total refurbishments to individual rooms.  Click here to find out more about our services or arrange a consultation and discuss your interior design ideas with Karen.