I have been promising myself for a while now to create a gift wrap station.  Last year a friend of gave me a gift of this super Santa Sack which I use to keep all my Christmas wrapping paper and tags.  But when it came to all the other occasions throughout the year, I had a jumbled mess of wrapping paper, gift cards and tags.  Inevitably I would end up with too much of one and not enough of another.
So I have finally got around to setting up my new gift station.  And when I say I ……. I mean I, Me, all by myself !! 🙂
The wasted space behind the door into my office was the perfect spot as this is where I keep my pens, cellotape etc., so everything I need will be together.  And my desk can also double as a wrapping table when I need it.
So on Monday I took myself off to Howards Storage World in Carrickmines (for all of you organisational fanatics like me, it is the best shop EVER!!)  I stocked up on some kitchen utility racks, the ones used for storing kitchen paper, jars and spices inside a press door.  I got the deeper one to use as the base so the rolls of paper wouldn't fall out.
I also attached a length of elastic to either side of the rack and secured with two small hooks to keep the rolls in place.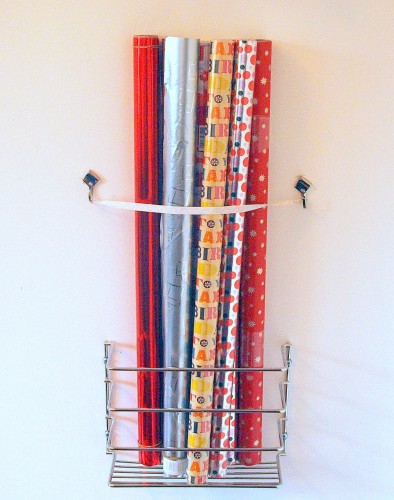 I drilled the smaller rack to the wall above to hold the rolls of ribbon.  I fed the ribbon through the rails so I can just pull out as much ribbon as I need without having to take the spool off the shelf.
I didn't have any S hooks to hand so I just attached a couple of steel curtain hooks to hold my gift bags for now.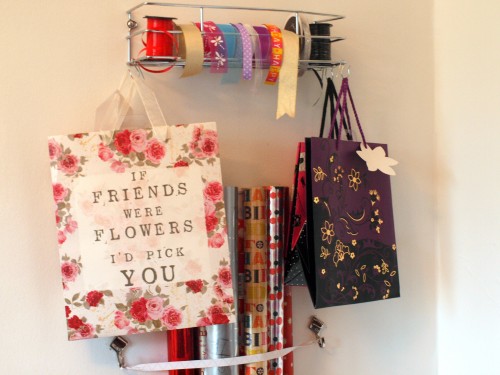 Finally I hung a plastic pocket holder (the kind used to hold jewellery) on a hook on the door to hold my tags, bows etc.
These ones aren't quite wide enough to hold normal sized birthday cards so I may change this to a shoe pocket holder at some stage as the pockets on that would be wide enough.  But for now this one is fine.
So there you have it, all my wrapping paper and tags all neatly held together.  Now everything has a place and I can see exactly what I have and what I need.
BTW sorry the pictures are a bit crappy, I was rushing but you get the general idea.