I have been invited to take part in a unique sustainable lifestyles initiative being launched by IKEA with support from Hubbub and the University of Surrey.  It's called the "Live LAGOM" project and it's all about finding new ways to help people live a better life and to save money.
What is Live LAGOM
Lagom comes from the Swedish phrase "Lagom är bäst" (the right amount is best), which IKEA and Hubbub believe is the secret to sustainable living. Not denying yourself what you love, while not taking from the planet more than you need.
I attended a workshop in IKEA Dublin last Monday night and Sarah (our Live LAGOM Leader) explained the thinking behind the project.
"It's an idea with the power to change the way people feel about sustainability.  Live LAGOM means saving money, energy and water, reducing waste and living a healthier lifestyle".
So where do I come in?
Well I have been chosen to be an ambassador (Yay! I always fancied myself as an ambassador 🙂 ) and will be given €650 to spend on the sustainable products found within the specially produced IKEA Hidden Gems brochure.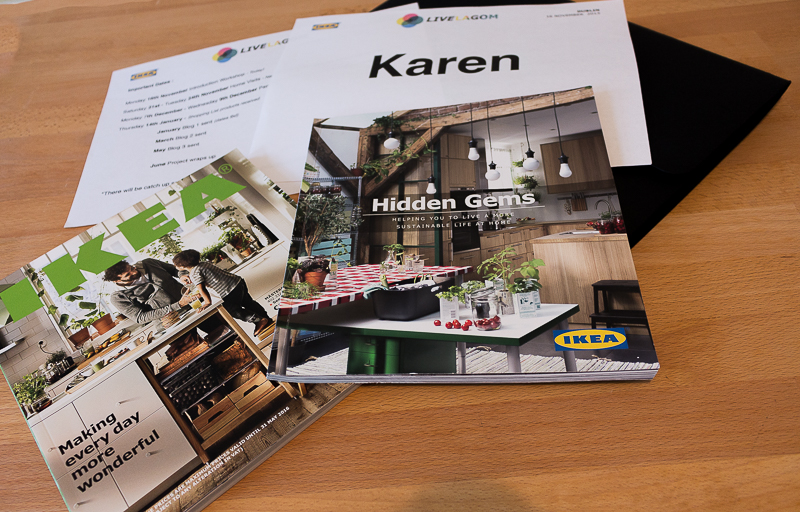 Sounds good to me so far…..so what do I have to do?
Write a New Year's Resolution relating to the Live LAGOM project that will help inspire me to write about my journey.  Me …… lists…. I'm all over that!
Write three blog posts throughout the project sharing my experience. Once at the beginning of the project, one mid way and one at the end in June 2016. Whaaattt….. only 3
As a Live LAGOM ambassador and writing about my journey, the idea is that it will inspire and enable others to make a positive change in their own lives.
I have to say I'm super excited about starting this project.  My biggest dilemma so far is deciding what to focus on.
As we have only recently moved to this house, there are so many areas that need improving.  For example I would like to change all the light fittings to LED's.  We did install LED downlighters when we upgraded the kitchen and the few interior light fittings we have are LED but there are plenty of rooms with just bare cables!!! Also all the external downlights (are there a quite a few of them) are incandescent bulbs.  There's also 3 enormous spotlight/security lights at the back and side of the house that could light the way for a Boeing 747 to land!! I dread to think of the amount of energy they are consuming.
Another area I'd like to concentrate on is our laundry room.  At this time of year it's impossible to dry clothes outside so I'm using the tumble dryer far too much.  Plus I HATE my clothes coming out of the dryer.  I love the feel of towels from it, but hate the wrinkles in clothes and it makes my most hated household chore "IRONING" even more of a pain.
There's not a lot of floor space in the laundry room for a clothes horse, so I'm thinking of utilising the wall space and installing some drying racks.


You can see directly into the laundry room from the dining area so I really want this room to be "pretty" while still being a functional usable space. It's a small area so these drying racks and some shelving and pretty storage is a must.  I've been pinning my ideas to a Pinterest Board which you can check out here if you feel the urge 🙂
Follow Emerald Interior Design's board Laundry Rooms on Pinterest.
Another project I'm working on (but not necessarily part of this Live LAGOM project) is a vegetable/herb garden near the patio area.  My cousin and I have already done a lot of hard work digging it out and getting it ready to plant in spring.  And I've a bit of a hankering to compost our food waste to stimulate the growth in the soil.  A water-butt is probably on the wish list too, so I'll have to get a bit creative and figure out how to include these as part of my sustainable journey.
Other areas in our home that we need to look at is waste recycling, storage and heat loss so I've a lot to think about in the coming weeks.
Watch this space……..