Back in November I told you about Live Lagom, a sustainable lifestyles initiative I'm involved with together with Ikea and hubbub.
Live Lagom translates to "the right amount is best" and the thinking behind the project is to help people to live more sustainable lives without having to compromise on how they live in order to do so.
Ikea suggested we select some "focus area's" we wish to improve within our home.  You can check out how and why I selected my focus areas in my previous post on this project but the main areas are energy conservation, waste and recycling.
Just before Christmas I met with my Live Lagom leader, Sarah for my shopping trip to select my products and last week I took myself off to Ikea to collect my goodies.  To say I was as excited as an 8 year old on Christmas morning is an understatement 😆
I couldn't wait to get home and view my stash!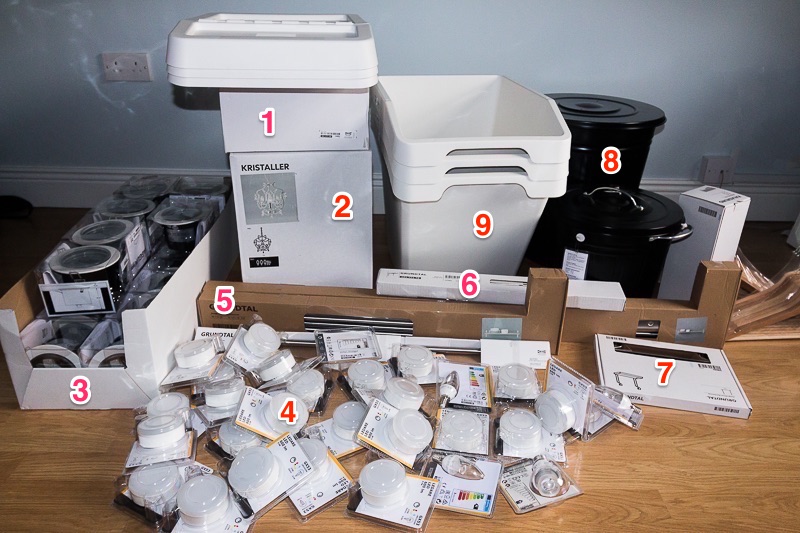 Let me talk you through it.
Saving Energy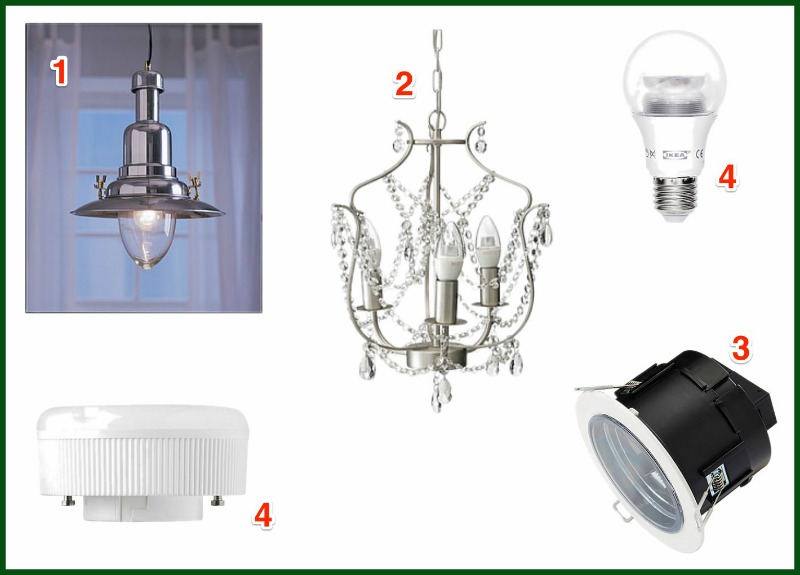 We have already replaced some of the interior light fittings in the house with LED fittings so first on the list was some new light fittings for two rooms we haven't done yet. This Ottava Pendant lamp is for our laundry room and is going to look great with the industrial look I'm going for in the room.  And I'm in love with this pretty Kristaller chandelier which will bring me one step closer to finally finishing my dressing room. All it needs now are curtains and it's finished.  (I know I know, what sort of an Interior Designer doesn't have curtains on her windows…… this one apparently  😳 )
By far the biggest culprit for energy wastage in our home are the exterior lights around the house. (Anyone who lives in a rural area will tell you that it gets very very dark at night.  While it's wonderful to have no street lights or traffic at night, total darkness can be a security issue so exterior lighting is a must).
We have incandescent downlights in the front soffit of the house and several large and extremely ugly security spotlights around the side and back. But the worst part is they're all on one circuit, so basically they're either all on or all off!
The solution is to replace the existing downlights with LED bulbs and install new downlighters in place of the spotlights.  We're also going to put them on separate circuits (front and back) and fit PIR motion sensors which should save even more energy.
So hopefully we'll help the planet, save ourselves us some mulla and have the added bonus of giving a nice ambience to the exterior of the house. Win win and win!
Laundry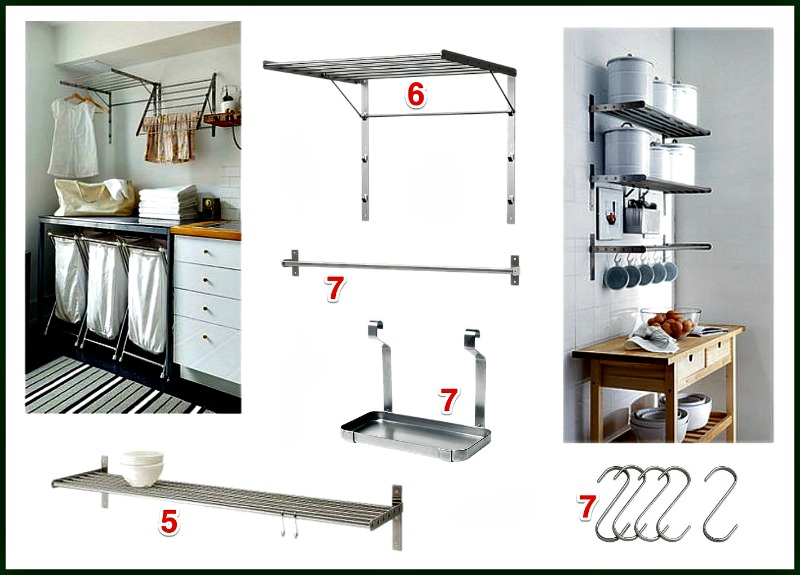 Focus area number 2 in energy conservation is in our laundry room.  I already have an A rated energy efficient washing machine but at this time of the year it's impossible to dry clothes outside so the dryer is getting used waaayyy more than it should.  Apart from the energy wastage I hate clothes coming out of the dryer!
As there's not much floor space in the room, I've opted for a wall mounted drying rack and I'm also installing shelving for storage. I've chosen the Grundtal wall shelf as it has rails which I can use for additional hanging space if needed and of course matches in nicely with the drying rack.
Recycling
My final focus area is recycling.  While we're not bad at recycling, we're certainly not great!  At the moment paper waste goes in the Green bin and bottles accumulate outside the back door until it becomes a health hazard that someone will fall over them, at which time we bring them to the bottle bank.  Normally at this stage though they're all wet and grubby from being outside and more often than not there's a "domestic" as to who's car we use to transport them.  (I'll be honest, I generally win 😛 )
Enter solution numbers 8 & 9.  I'm going to use the black bins for bottles and cans etc for the bottle bank. They're large enough to hold a substantial number of bottles yet small enough that they'll fit in the boot of the car to transport.  I'm also going to bore small holes in the bottom so they won't retain water and hopefully not cause as much mess.
I'm still undecided on the Sortera boxes purpose just at the moment. I may use them to store and sort other recycling materials or I may use them in my office to house the scraps of fabric, paper etc that seem to accumulate at a rapid rate. At the moment the office idea is winning but we'll wait and see what becomes of them.
One thing is for sure, I'll be a busy girl over the next few weeks. I'll keep you updated as works progress.