We're hoping to be on the hunt for a new home in the next few months, so me being the list maker that I am, is already busy drawing up my "Must Have" list.
At the top of that list is a large social kitchen. Guests always seems to congregate in my kitchen so I love the idea of a large open plan space where I can cook and still chat with family and guests.
I've already designed it in my head and included in some of my must haves, is a bank of full height units which would house the oven, coffee maker, warming press, microwave and steam oven (sure why not :P)
Image from HousetoHome
I also love the idea of not having any wall cabinets.  Sticking with only floor cabinets can give a nice airy feel to a space.  And as I'm only 4′ 11″ tall, the top shelves of my kitchen units are unknown territory to me! Image from Houzz.com
And of course the must must have for every Domestic Goddess – a walk in pantry
My existing kitchen has cherry wood shaker units with a black marble worktop and cream porcelain tiles, so next time round I want to bring in lots of colour.  Reflective surfaces and bold bright colours will definitely feature.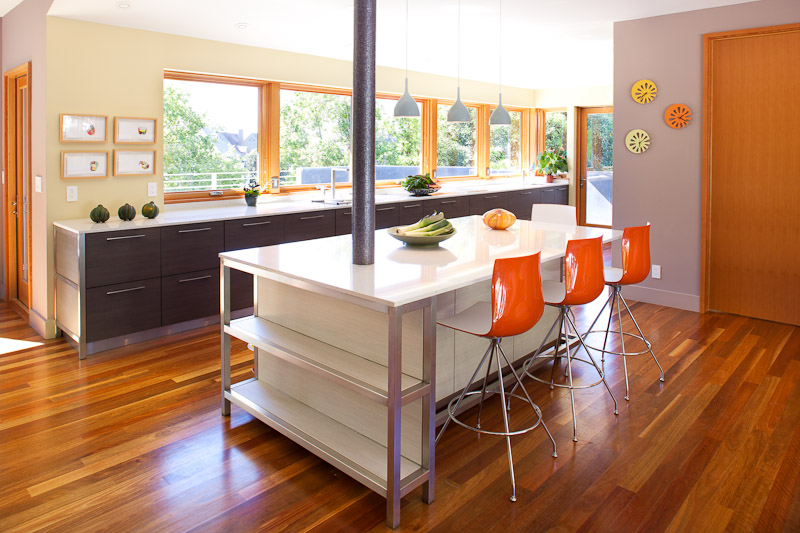 I love this open plan space I spotted on Houzz.  It pretty much ticks all the boxes.  Floor units, a bright colourful space, and a designated area for eating and relaxing.  Love love love!
This stunning kitchen is part of a renovation project by Dotter Solfjeld Architecture Design.