Mirrors are an essential element in a design scheme.  They intensify light and add depth to a room.   Mirrors work great in every room, and work particularly well in hallways or rooms lacking in natural light.
A mirror will add elegance and drama to a space and brighten up dark drab corners. Think carefully when choosing the placement of the mirror so as to reflect attractive views or artwork on adjacent walls.
Here are some clever and creative ways mirrors can be used as a design feature in a room.
A large oversized mirror is the focal point in this room and makes a dramatic statement.  Place on a floor resting against the wall in a bedroom or hall for maximum impact. But of course make sure you secure it to the wall for safety reasons).
Sunburst mirrors look great over a console table or fireplace mantle.  Their unusual shape adds visual interest to a space.
Who says you can only have one mirror on a wall.  Hang a group together and display them like artwork.  I love the effect of these bubble mirrors in this London house.  A very creative way to brighten up a boring wall!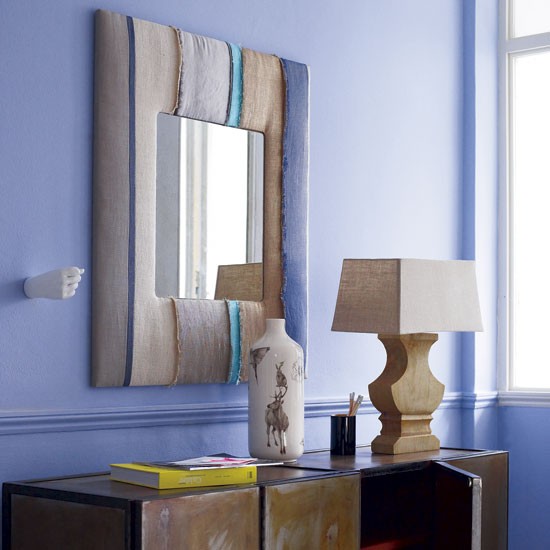 Give your hallway a bold new look by covering a mirror in your favourite linens and create a striking stripy pattern. Create rough seams for a relaxed look or neat ones for a smarter feel. – from House to Home 

This eye catching mirror makes a very dramatic statement in this small cloakroom.  Images courtesy of houzz.com
—————————————————————-
And you don't have to stick to walls.  Place a full length mirror on a table and set candles on it for a stunning centre piece.
I hope you enjoyed this article, please leave a comment and let me know what you think.  You can also find me on Facebook Twitter  and Pinterest.   If you need some help in designing your living space, please do Contact Me!  I  offer a full range of services to meet your design needs.  Click here for more info!