Does your hallway say "Hello, Welcome, Come on in" or is it more of a dumping ground for an assortment of shoes, coats, school bags, sports kits, golf clubs etc. The hall is often the most overlooked space when decorating your home and yet it's the first thing a visitor sees.  It's their first impression of what lies ahead!  And we all know about first impressions, rightly or wrongly they tend to stick. A hall can be a difficult space to get right.  They're often quite narrow and have only one light source so choosing the right colour and furnishings is very important.  It needs to be light and bright but also practical and durable.  And it's a high traffic area  so flooring is a major consideration.  Cream carpets and children's muddy wellies are never a great mix!  And of course storage is paramount so it doesn't become a dumping ground.  Big ask for a small space! But fear not inspiration is at hand………
Let's start with storage
Surely when everyone has their own spot there is no reason for anything to end up on the floor.  Right………
Not only do the kids have their own hook, they each have their own little blackboard so you can keep up with their busy schedules.
These wall mounted cubbyholes and quirky umbrella stand not only provide space for the family's belongings but add a bit of fun to this hall.
Whether you're tall, short, young or old, there is no excuse for not putting away your stuff.
This contemporary modular furniture makes a modern statement in this hall.
Furniture
Console tables are a great option in a hall as they are narrow and not intrusive.  Use lamps or vases on a console table to add height.
If you have the space a single piece of furniture can add impact and create a focal point.
Shelving
Shelving is another way to add interest to a hallway.
Here floor-to-ceiling bookcases provide excellent storage while maximising space.  It makes for an interesting feature and takes up relatively little floor space.
The layout of these shelves adds interest to an otherwise bland area.
Radiator covers are a great space saving solution in a small hallway.  They not only cover up unsightly radiator covers, they make for additional shelving too.
Flooring
Flooring is a major consideration.  Choose a floor which can be cleaned easily and won't show up dirt and always use a good floor mat.  It will protect your floors from our wet muddy weather and remove grit from shoes which will scratch a wooden floor.  There are countless options available but here's a couple of tips to help you choose:-
Choose a solid floor which is low maintenance and easy to clean if you have children or pets.  Consider laminate, tiles or slate.
A traditional tiled patterned floor in a period home makes a spectacular entrance.
Seagrass is a natural and durable flooring.  It's hard wearing and doesn't show up dirt or dust.  But it's not very comfortable underfoot if you like going barefoot.
A real wood floor if laid properly will last you a lifetime.  Choose a hard wood such as oak or as it provides greater resistance to wear and tear.
Original pine floorboards can look very impressive if restored to their former glory.  Or consider painting them white for a truly impressive look.  You might want to implement a "No Shoes Policy" first though.
Porcelain or marble tiles look stunning in a hallway.  But think carefully if you have young children or pets as they can be slippy when wet.
Carpet is not a practical option in a high traffic hall.  If you do decide on carpet choose one which is stain resistant and won't show up too much dirt.  Carpet is the better option on stairs though as solid floors can be noisy and slippy.  A stripped stair runner will add a touch of colour to the space.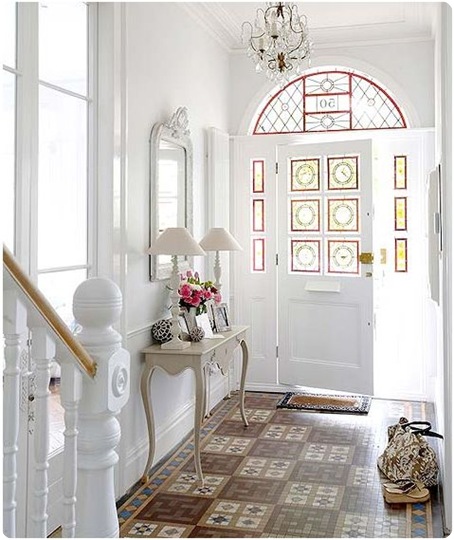 Photography courtesy of Stewart Grant via whitelocation.co.uk
Make an impact
Halls tend to have ample wall space so consider a photograph gallery wall or large mirror or add interest to a long narrow hall with a dramatic wallpaper on one wall or rug runner.
The one great thing about a hall is that as it's an area you walk through and don't spend a lot of time in, so you can add a touch of drama to this space without getting tired of it.  So put a bit of your personality of show.