Can you believe January is almost over already! Not that I'm complaining as I think it's the most depressing (and frugal) month of the year. And it doesn't help the frugality that my husbands birthday is in the middle of it!  😯
On a bright note though January/February generally marks the launch of the new Spring Summer collections and my inbox has been full of lovely press releases filled with lots of gorgeous new fabric collections.
The first thing that struck me was colour.  And lots of it.  It appears our favourite designers want to herald the imminence of Spring with lots of bold bright colours and prints.
The Orvieto Collection from Romo Fabrics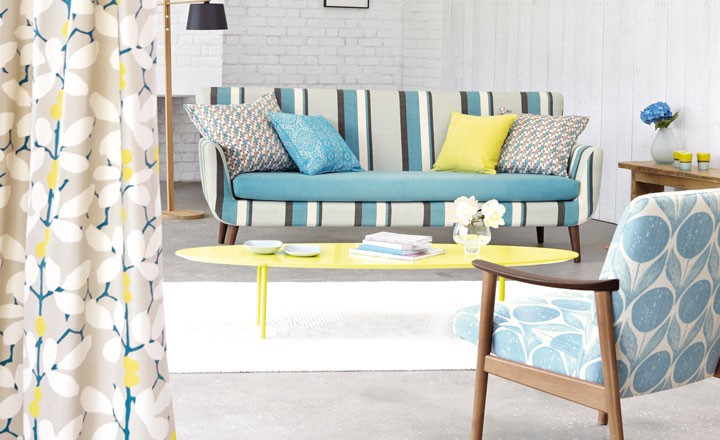 From Scandinavian block prints to the intricate Moorish designs, the Orvieto collection from Romo is an exciting collection of versatile designs and colour combinations.
The Sumatra Collection by Prestigious Textiles is a colourful collection of embellished fabrics for curtains, blinds and cushions, with coordinates available for domestic upholstery. Embroidered Jacobean trails, mini-mosaics and Ikat-style damasks are complemented by opulent embossed velvets and bold digital prints, all in jewel-bright shades.
Named after the Promenade de la Croisette in Cannes, the Croisette Collection by Osborne & Little is a collection of four contemporary textured semi-plain upholstery qualities.  The colours are evocative of the French Riviera with tones such as lavender, grape, tomato, rose-pink, mustard, turquoise, sapphire and navy.
 Harlequins Poetica Collection of pretty prints and wall coverings are perfectly complemented by the light and airy Poetica Voiles, in a delicate colour palette.
***    ***    ***    ***    ***
If you need some help in designing your living space, please get in touch with me as I offer a full range of services to meet your design needs.  Click here for more information!