In Mondays post I spoke about displaying artwork by propping it against a wall and saving your walls from holes.  So today I thought I might mix it up a bit and discuss drilling several holes all over them!
Regular readers of this blog will know of my love of photo gallery walls.  Photo walls are a great way to incorporate your own personality and life into your design scheme. It's the perfect way to personalise your space and showcase the people and moments that matter in your life.
This is a gallery wall I created for a client last year.  You can read the back story here
But before you rush off and start hammering nails randomly into the wall, put a bit of thought into how you want to display your collection.
There are no hard and fast rules when creating your display but it is wise to follow some guidelines. Consider the wall space and ceiling height, is there angles, stairs, corners. There are countless arrangements possible and it's up to you how you want to display your collection.
Using frames and similar images makes a very impressive impact.  These frames from IKEA with black and white prints looks very striking in this dining area.
You can mix and match frames and photo sizes but try to make sure there is some symmetry or colour scheme to your display.
A collection of vintage photo's is displayed beautifully in this image from Refurbished Ideas
Make an impact.  I love how this narrow wall is completely covered with family photos.  Image from  Dwell.com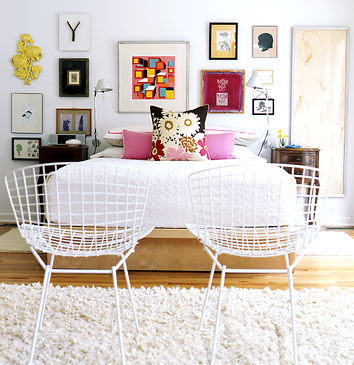 Bring a splash of colour to proceedings like this colourful picture display from Emerald Interior Design Blog via My Modern Met
Another colourful display from my post on Black and Yellow Colour Combos
Picture ledges are a great way to display framed photographs. Black and white photos make a great contemporary display. Use the shelves to display photographs, prints, framed postcards, and a variety of other objects. Overlap frames to avoid blanks and fill in with accessories to add interest.
Hanging pictures up a stairs can be quite tricky.  The trick is to follow the stair line up the steps.  Measure every second or third step and set your frame the same distance consistently all the way up.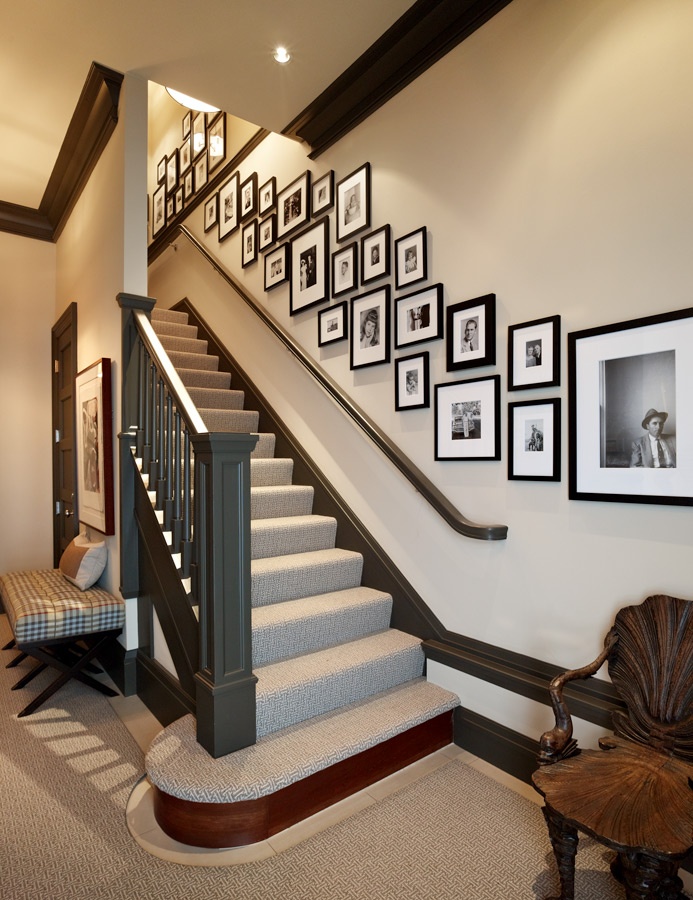 A beautifully displayed gallery wall going up the stairs in this hallway from Jeffers Design Group
Have you done a gallery wall in your home?  Leave a comment below and let me know how it worked out.