This post is part of my Ask The Designer series.  Ask me a question and I'll do my best to answer it.  Include as much information as possible, maybe even send me a photograph if you think it will help.  Want to play?  Get in touch by sending me an email,  use the contact form  or just leave me a comment here.
Q – Hi, I'd love to brighten up our kitchen as i find it quite dark.Its a kitchen/dining/living area combined. Its 25 ft by 14ft with terracotta floor tiles, solid ash kitchen units, black granite worktop,timber ceiling,timber blinds,cream walls with a feature colour on the chimney. I'm only changing blinds and wall colour at the moment(on a budget!)Any colour suggestions would be extremely helpful and my big question is should I paint the timber ceiling or is that risky???? Really grateful for any ideas.
Thanks, M – Laois 
A – It sounds like there are a lot of hard surfaces in the space so I would recommend softening the look by introducing texture into your scheme with soft furnishings.  Fabric drapes or roman blinds could be an alternative to the wood blinds and maybe introduce a deep pile rug in the living area of the space.
Mirrors are a great way to introduce light into a room and try to stick to reflective surfaces in furniture such as chrome or glass rather than wood finishes as they will absorb the light.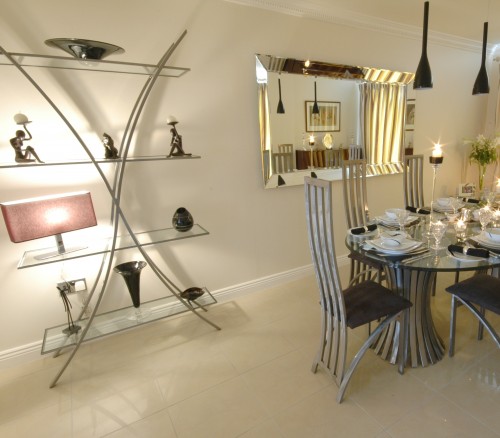 Stick with a calm neutral paint colour  Farrow and Ball have a great selection of chalky finishes which work well with wood and hard floors.  To be honest I'm not a fan of painting the chimney breast as a focal point.  I think a feature wall in a striking wall paper creates a much better impact.  It's also an excellent way to zone areas in an open plan space, if you place it at the dining area for example.
Providing you use the correct paint, there is no reason you can't paint the ceiling.  But obviously without seeing the space I can't really say if this will work.  Sometimes it can be a good idea to instead of trying to make a feature blend in, you could make a feature of it.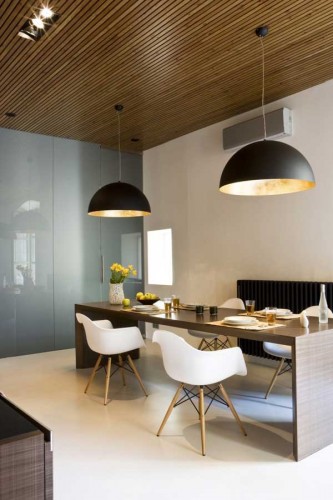 Here the large pendant lights in the slat ceiling creates a very striking effect.
I hope I've given you some ideas to decorate your space.  Do let me know if I can be of any more help.