It may only be the 8th October but as all I could hear all weekend were bangers going off, I realised that All Hallows or Samhain is approaching.  So it must be time for me to share some creepy-but-cute Halloween decorating ideas with you!
Whether you're decorating your home for the kids calling, or if you're entertaining guests,  fear not I have some boo-tiful ideas for you.  (See what I did there) 🙂
Light the way to your front door with these candle lit pumpkins.  They're much simpler (and safer) to make than cutting out a Jack-O-Lantern face.  Simply hollow out the pumpkin, drill some holes and place some battery operated Christmas lights inside.
Dress The Mantle
A great way to decorate your home on special occasions is by decorating the mantelpiece.  The fireplace is very often the focal point in a room and the mantle sets the tone for the entire room.  It's also one of the easiest ways to change the look of room in an instant.  And a great way to add a unique touch for any holiday or seasonal event.
Spooktacular Tables
Set the scene by adding some spooky table settings.  Black and silver; orange or even green and black are all great colour combinations to achieve the ghoulish look.  Cobwebs, spiders and skull accessories will add drama to your setting.
No table is complete without a centrepiece.
Floral arrangements are generally the choice for a centre piece.  But of course on Halloween you expect the unexpected!
No room is safe in the witching hour so why not quite literally scare the sh1t out of our guests.  🙂
As with most design details, more often than not, less is more.  Sometimes a simply decorated shelf or a single design detail is all that is needed to give dramatic effect.
I love this black and white arrangement on this book shelf.  Simple yet effective.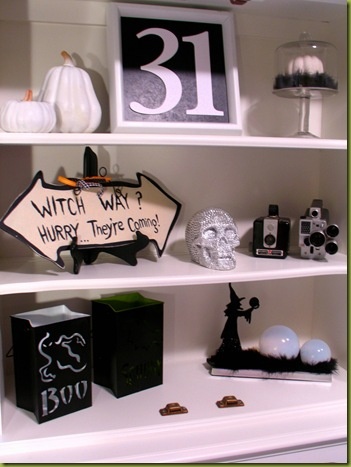 And a sign sitting on table will encourage passers-by to stop and read.  The prankster in me has to get this sign for unsuspecting guests 🙂
Of course, no party is complete without food and drink.  So I've even sourced some scary beverages to offer your guests. Anyone fancy a Goblin Mimosa?
 Click here for the recipe.
Candy stick anyone?
Mind you, serving lemon or lime segments in this might make me choose to have my G&T neat 🙂
This last one has nothing really to do with design, I spotted this postcard while researching this article.  I love it but also got a little bit freaked at the same time. 😉
For more Halloween ideas, check out my article from last year Double Double Toil and Trouble!  Have a very happy and safe Halloween everyone.