If you read my post last week, you will have spent all week filling your home with ghosts, goblins, witches, vampires, pumpkins and cobwebs! Of course you did  😛
So today I thought I'd treat you to a few little Halloween party ideas. If you're planning on having family and friends around for a spooky soirée, you'll need to treat them to some heart stopping food.
Severed hot dog fingers! These are actually freaking me out, they're so realistic looking 
    Image source: Party Tipz
Now I love cake as much as anyone but I'm not sure how tasty I would find this.  Still prepared to give it a go though 😛  For the blood curling recipe visit  Say it with Cake
Keep the drinks chilling with this easy peasy Halloween ice bucket. Image source: Princess Pinky Girl
Sweeten up the menu with these adorable white-chocolate "wrapped" mummies.  Flavoured with peanut butter and butterscotch, they are sure to be a big hit with young and old.  Visit HGTV for the full recipe.
For a few pre dinner appetizers fill a pumpkin with some tasty dips. Image from Pinterest
You could even make a little veggie skeleton to go along side it.  Image source: OF MICE AND raMEN
You'll also need to set the scene with for your grisly gathering with some spine chilling table settings.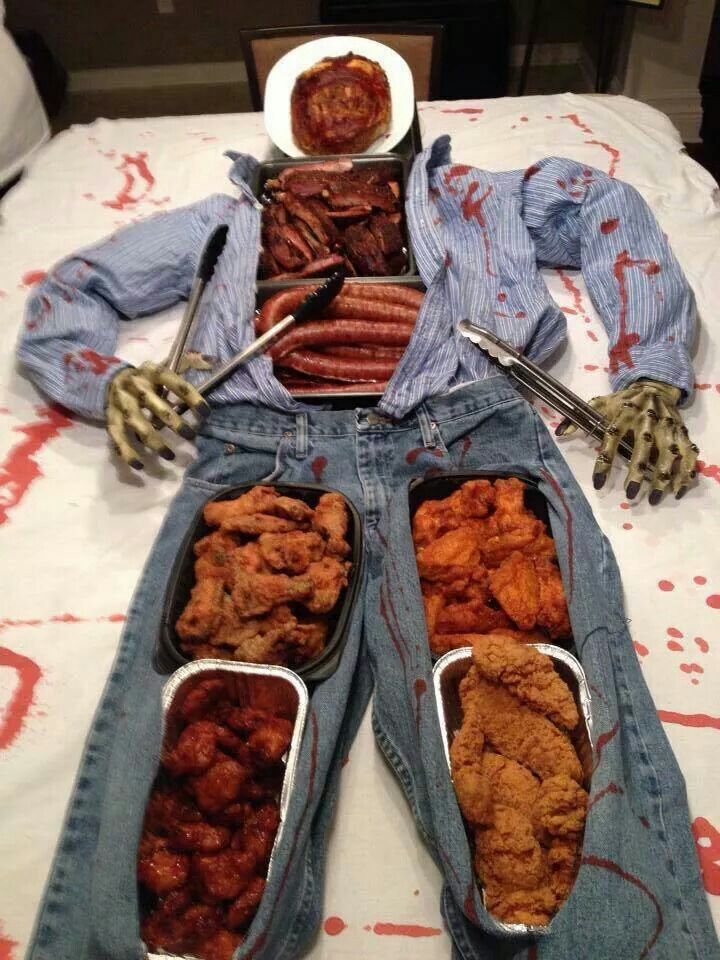 This is both gross and brilliant at the same time.  But what a fantastic way to set out your party food.  Image from Pinterest
I actually love this black and silver table setting – spooky yet elegant. Image source: Parsimonious Décor Darling
And you can't have Halloween without cobwebs. I have no idea why but you just can't! Image from Pinterest 
If you're hosting an adults only party, you might want to add a touch of sophistication to the proceedings.  Take inspiration from the golden tones of Autumn for a festive yet elegant affair. Image from Emerald Interior Design Blog. 
A pumpkin flower arrangement will add some Halloween chic to your table. Image source: Harpers Bazaar
This is stunning! It's actually a wedding banquet but the colour scheme would work equally well for a bewitching evening! Image source: Weddingomania
So folks, I hope you have a spooktacular Halloween and the memories will haunt you forever  🙂  😛  🙂  😛