As I work from home I've turned one of the bedrooms into a home office.  And while it is very functional and efficient….. It's boring!  So after drooling at Jens office over at MadeByGirl, I've been on the hunt for some funky home office solutions.  Check out these lovely ideas from Living etc.
Use floating shelves and fitted cupboards to create a spacious working area.  The clever storage in this desk keeps paperwork under control.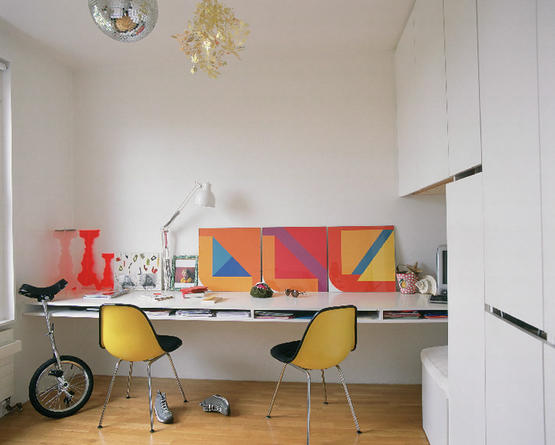 For a quirky storage idea in your home office, hang bold wallpaper behind a traditional dresser and display funky box files to continue the contemporary look and to ensure the old dresser ties in with your modern lifestyle.
Create a gallery wall using family photo's and vintage accessories to give a romantic twist.
This colourful desk and accessories are very striking against the plain white wall.
Ladder desks are an ideal alternative if you don't have a lot of space.
I love the way this mirror gives the illusion that this small office is double the size.
And how about this for a pretty office.