It's almost back to school time and your young creatives will soon be proudly bringing home their daily works of art. Probably lots and lots of works of art!!!
But instead of them just piling up on the kitchen table or cluttering the fridge door, how about some clever and unique ways to display them with pride.
Take the glass and backs from some white frames, attach some clothes pegs with contact tape and viola, an interchangeable gallery wall. Image from Cathey with an E
Spray paint some clipboards and create a Picture Corner. You may need to stick the images at the bottom of the clipboards with blue tac though to prevent curling. Image from Tip Junkie
Ikea rails and bull-dog clips are a fun way to display artwork. Image from Design Is Mine
If space is at a premium, simply scan your favourites and print them out is a smaller size to create a collage.  Image from Clean & Scentsible
The Li'l DaVinci art cabinet is a great way of alternating their artwork while providing a smart design element in your home. The frames have a hinged glass front door, allowing you to change the pages easily without even having to take the frame off the wall.  There is also a spring-loaded mechanism which can hold up 50 sheets so it's a great way to archive your child's artwork.  Image from Emerald Interior Design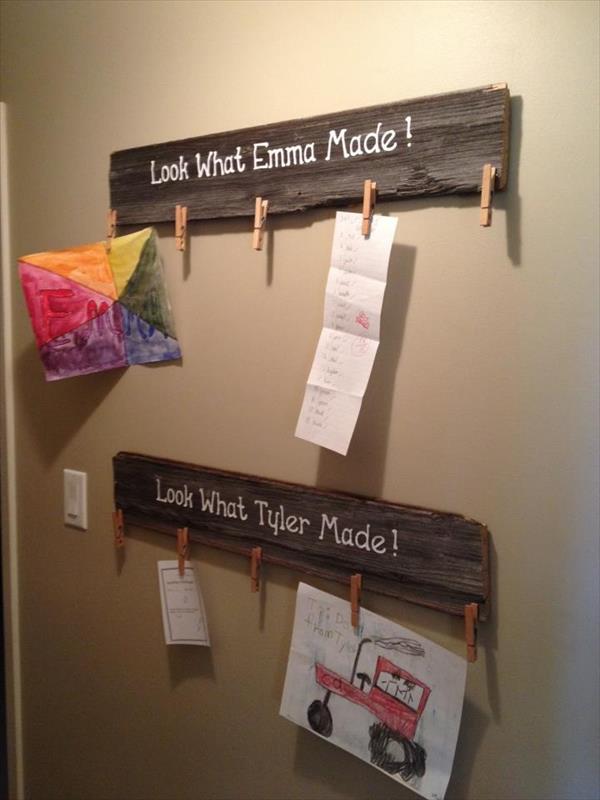 I love this idea from Pallet Furniture DIY. Simply glue some clothes pegs to a piece of pallet, paint and stencil with each child's name.
This is a brilliant way to create a really striking display on a budget. Simply clip the images to trouser hangers and hang on the wall with nails. I know the images in the photo aren't of children's artwork but I think the concept is the same and its so simple it's genius! Image from Apartment Therapy
How about a 3 dimensional view of their works of art? Check out Artful Kids for the full tutorial.
This is a super easy way to create a gallery wall. Simply attach a curtain pole and add some bulldog hooks to the curtain rings. The word decal finishes the look. Image from Pinterest
Incorporate their artwork into a room divider. Image from Baby Centre
Go big and cover an entire wall with their favourite framed art. Keeping a symmetry with identical frames, makes the colours pop in each image without the overall effect being too overwhelming. Image from Apartment Therapy
 What do you think? I'd love to hear of your creative ways of displaying your child's artwork!