Lighting is an important aspect of interior design but getting the fixtures just right for your own home can be tricky to achieve, especially if you have no prior experience or creativity.
Living Room
Generally the living room is a place where we entertain, spend time with family and friends, relax in front of the TV and chill on the sofa.
The ideal lighting solution in a living room should offer a good amount of artificial light as well as natural light. Floor lamps, statement chandeliers and spot lights are often popular choices and can be found at trusted retailers such as Lampcommerce.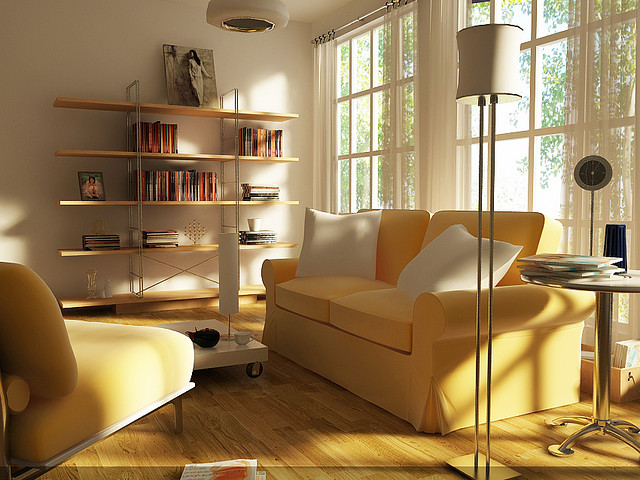 Image courtesy of jinkazamah
However, one issue with relying on a floor lamps and similar lighting solutions is that the overall aesthetic of the space can become overpowered with lampshades.  Spotlights and dimmers are a perfect solution as aesthetically they are less intrusive and provide lower lighting during when necessary.
In smaller living rooms you have to be more creative to accommodate the lighting fixtures you really want. and there are many ways on how you can make small rooms look larger, including some tips on lighting that can work wonders.
Kitchen
The kitchen is often referred to as " the most important room of the house" and often the focus on lighting is more about making the space practical rather than creating an ambience.  However low lighting is an important consideration in this space when creating ambience for special romantic meals or parties for example.
Overhead lighting is very useful in this space, so think pendant lights. For inspiration, take a look at the Axo Light collection which features stunning pendant lighting. A mixture of lighting at other levels is also a good way to go to ensure you have variety and can light the room depending on the task at hand. Under unit LED lights are a great way to focus light on work surfaces and offer a low energy way to keep the room lit while you pass in and out during an evening as can a tall floor lamp (plugged in away from the sink) in a corner of the room.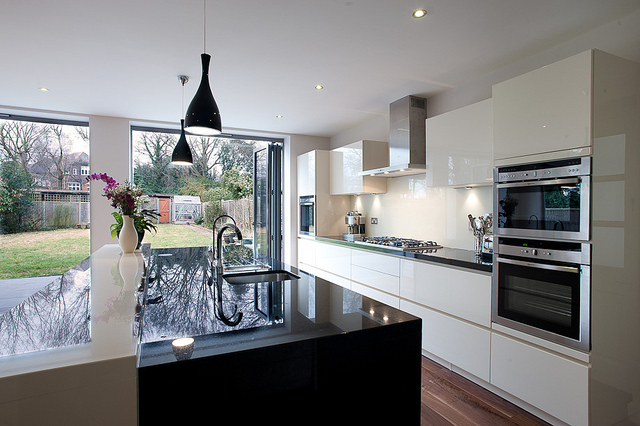 Image courtesy of Holland and Green Architectural Design
For more on the latest Kitchen design trends for 2015, take a look at this article which features several fantastic ideas.
Bedroom
The bedroom is a place to unwind, relax and have a little time for ourselves. Keep this in mind when planning your lighting design and focus on trying to achieve a cosy and snug atmosphere. Table lamps with low wattage bulbs are great, as are diffusing lamp shades to soften the lighting and mood.
With that said, the bedroom can also become a practical space, particularly in the mornings if you get ready for your work there. As such, allow for flexibility so you can use soft lighting at night and take advantage of more natural lighting during the day.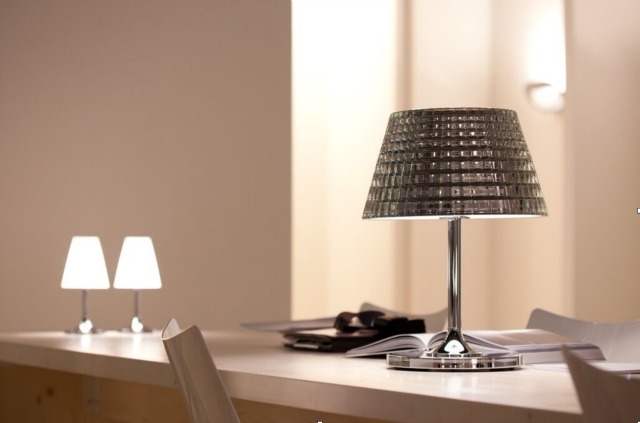 Image courtesy of Lampcommerce
Dining Room
Dining rooms need to accommodate a dining table and chairs and space permitting often, a few other pieces of furniture such as a cabinet, sideboard or coffee table.
Ideally your lighting should highlight the focal feature of the room.  If this is the dining table, showcasing this area with pendant lights or a chandelier above the table is a great way to do this. With the focus on the table, use soft lighting in the the other areas of the room with small table lamps, wall lights, or even a simple battery powered cabinet light inside the glass door can add great ambience to the room. For a guide on which light bulbs are best to buy take a look at this detailed guide.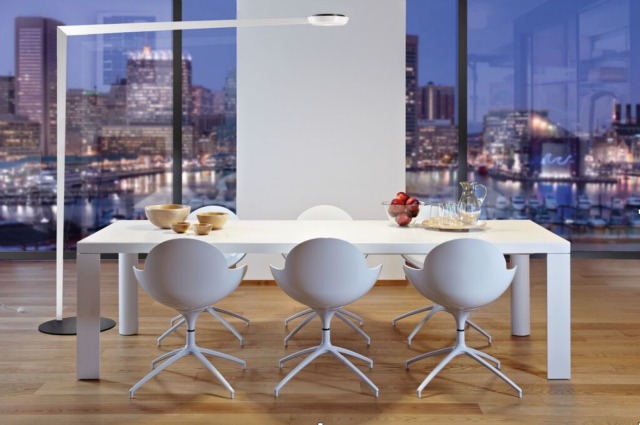 Image courtesy of Lampcommerce
As you can see, there are many ways to create effective lighting techniques in your home. Lighting can add a great deal of character and ambience to a room so it is important that they are placed in the right places, particularly if you have a small space as they can also help to make a room look bigger!
Disclaimer: This article was written in collaboration with Lampcommerce a highly dynamic company with over 20 years experience in lighting fixtures