Any of you who read this blog on a regular basis know of my love for photo gallery walls.  Check out previous posts I've written on the subject here and here if you need proof 🙂
Gallery walls are a great statement feature as unlike photographs hanging randomly on the wall, they encourage the passer by to stop, look and ……. remember! They're also a great way to bring your own individuality and personality to your home.  I mean, you're not going to find photo's of your brood on the shelves of Ikea now are you!!
I'm working with a client at the moment and he had a huge amount of family photo's scattered randomly on walls in every room.  I suggested we create one wall in the living room featuring his favourite family memories.
So we gathered some of his favourite family shots from over the years.  We used different sized frames (as we were using snap shots which were all different sizes) but kept a consistency by only using black frames with white mountings.
When creating a gallery wall try to create an invisible frame for your photo's.   It doesn't have to be a square or even a straight line, but there has to be some form of reason to your display, otherwise they will just look like they're thrown at the wall.
In our case we wanted to create a square effect above the radiator cabinet.  As we were using photo frames of different sizes it wasn't possible to create a "perfect square. "  So we kept the top and sizes of our invisible frame level and then filled in the gaps with the remaining frames.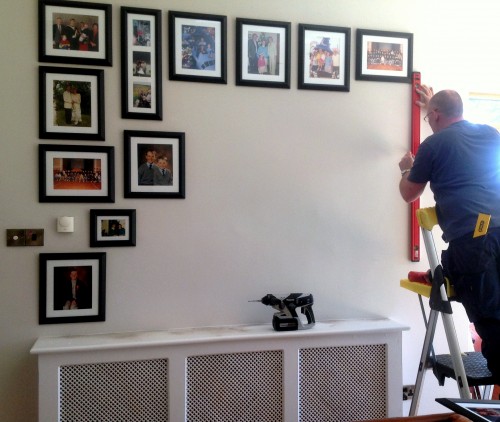 I know they may not look level in this photo but that's actually down to the photographer (me!!) not holding the camera steady!!
But the best bit was the clients reaction……….
Job Done! 🙂