I'm sorry folks I know it was very quiet on this blog last month!
So much so in fact that I've received emails from some you asking when I would be publishing my Christmas posts – you certainly know how to make a girl feel bad 😳 😳 😛
The truth is I've just been so busy with my design work that I simply didn't have the time to research and write any articles here. But my projects are settling down now so even though there's not long left till the big man arrives, I will do my best to get a few articles up for you in the next week or so.
In the meantime I thought I'd show you a little of what the festive season is looking like so far around here.
As many of you know we are living with my mum at the moment so it's nice getting a different home to decorate. Luckily mum is as crazy about Christmas as I am, so together we're well on the way to creating a Christmas wonderland.
I have the interior decorations done and we are working on lighting up the garden this weekend.
Here's a glimpse of what we've done so far.
We have two trees up in the house. The tree in the main lounge (or the "Good Room" as we Irish refer to it) is red and white.
The tree in the living room is themed with a pink and silver colour scheme
By the way, the painting on the wall is a portrait of my little brother aged about 7. There is one of me beside it but thankfully it's out of shot 🙂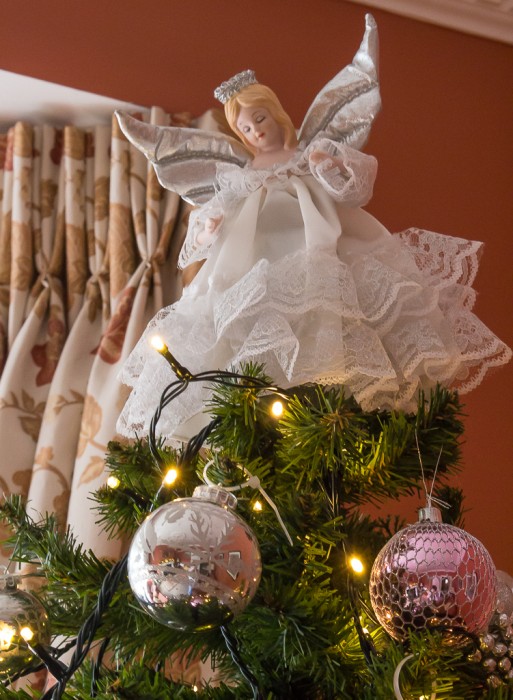 Mum loves her teddy's and there is no shortage of santa's, teddys, dolls and little figurines on view.
There are even two dolls that mum bought when my niece and her cousin were born……. 21 years ago!
And they're not looking bad considering they spend most of the year stuffed in a box in the attic:)
I'm also trying to wrap the presents as I buy them to save myself from the drama of being tied up with wrapping paper and ribbon on Christmas Eve!
Ok so there's only 3 but it's a start 🙂
So that's it so far in the Hughes household.
So how are all your preparations going for the Big Man's imminent arrival? Hopefully you're all organised and still stress free.