I absolutely love candles in my home.  I love the scent, the glow, the whole ambience that candle light gives off.  One of the few good things about these long dark evenings, is to cosy up on the sofa with a nice glass of wine and the soft glow of candle light casting shadows on the walls.
There are countless and imaginative ways to display candles in your home, from glass hurricanes to tea lights; tapers to lanterns.  You can choose traditional candlestick holders or make your own using pieces of wood; tea cups; or even wine glasses.  The only difficulty is deciding what to choose!
Hurricanes are a great way to display your arrangement.  They come in lots of shapes and sizes and the glass creates a beautiful reflective glow.
Add fillers for added effect.  Use pebbles or sand or add seasonal elements such as snow at Christmas or nuts at Halloween.  Just make sure to use an inflammable material.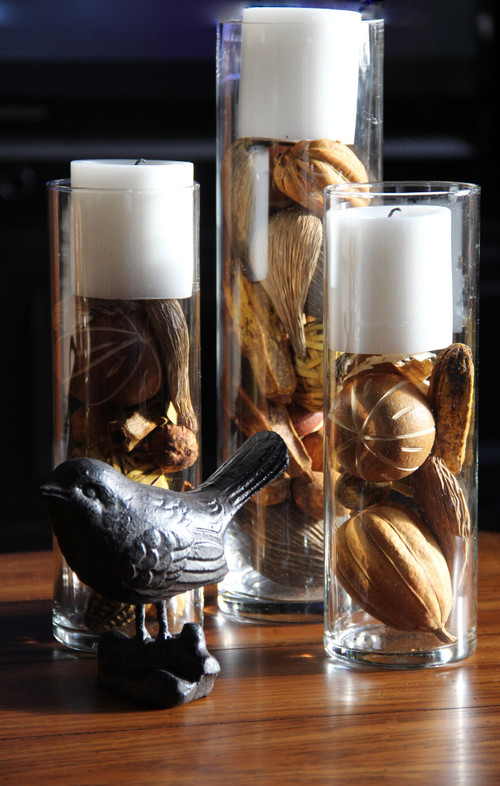 There are countless ways to display your candle arrangements, just let your imagination take over!  But the general rule of thumb when displaying in groups is to use different heights to add interest.  And odd numbers work best.
A single row of candles on a long dining table creates a stunning effect.
Here wine bottles have been used for ultra chic ultra cheap effect.
And how about this for multi purposing?
A cup cake tin used as a candle holder.  Vintage Chic!
I love the effect of these tea lights set into this stone wall.
Candles are a great way of creating atmosphere and are a very cost effective way of providing mood lighting.  They are also great for adding interest to an otherwise boring space in a room.  And of course are cheap and easy to replace on a whim.
Are you a candle lover? How do you display them in your home?  [Images from Houzz.com]
***    ***    ***    ***    ***
I hope you enjoyed this article, please leave a comment and let me know what you think.  If you enjoyed this post why not head over to my 
Facebook
 page or you can follow me on 
Pinterest
 or 
Twitter
.  Details of my Interior Design services can be found on my 
Website
***    ***    ***    ***    ***