Of all the million and one jobs we heap upon ourselves at this time of year, gift wrapping is probably my favourite.  I'm the first to admit I do go a little mad with it.  I generally pick a colour scheme to match the theme of my tree, surround myself with a mountain of paper, ribbons, bows and gift tags and get stuck in.
I love getting creative with my gift wrapping.  They look so pretty under the tree and (hopefully) the recipient will be so distracted with the pretty packaging they won't be too disappointed with what's inside.  😛
Recently I've noticed a lot of beautifully wrapped gifts using brown paper.  Yep you read that right.  Good old-fashioned brown paper.
I love this idea because not only does it save waste on multiple rolls of fancy paper, but you can get really creative with the ribbons and adornments because the backdrop is neutral.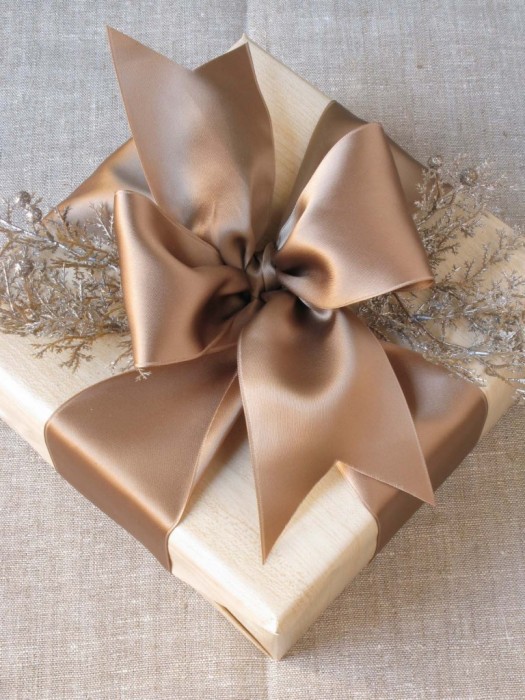 A beautiful elegant bow by Eddie Ross.  If you're all fingers and thumbs when it comes to tying bows, there's a little bonus video on how to tie the perfect bow at the end of this post.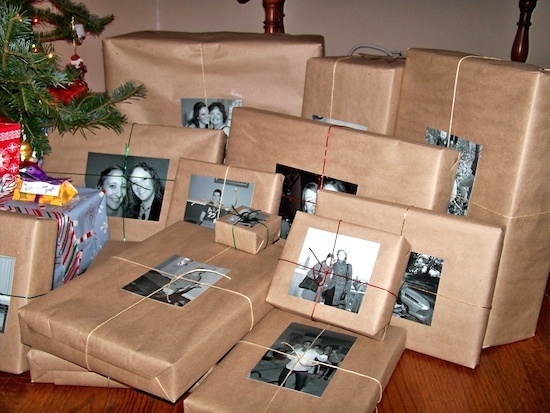 I love love love this idea from Comment Economiser.  We all have no shortage of photo's on our phones, so why not print off one of the recipient and use it as the gift tag for a really personal touch. Keeping all the images in black and white gives a cohesive look to the concept.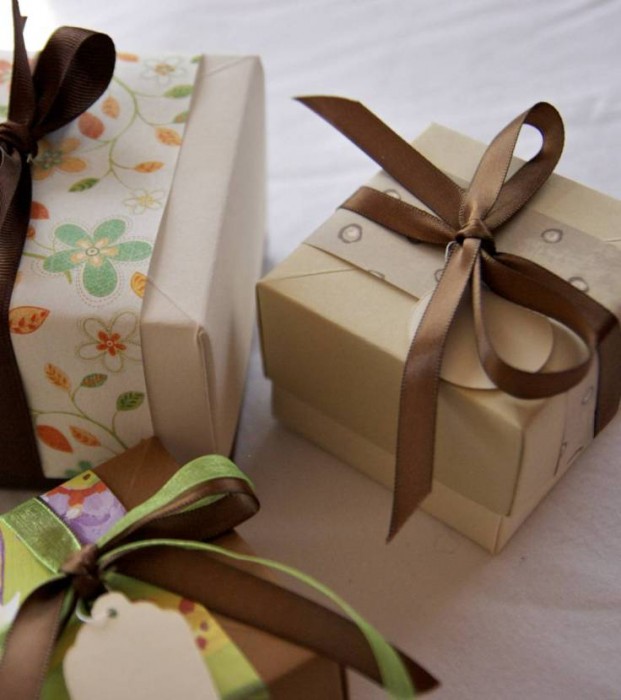 Some pretty card stock and ribbon can turn a plain box into a sophisticated gift.  Instructions on Brady Lou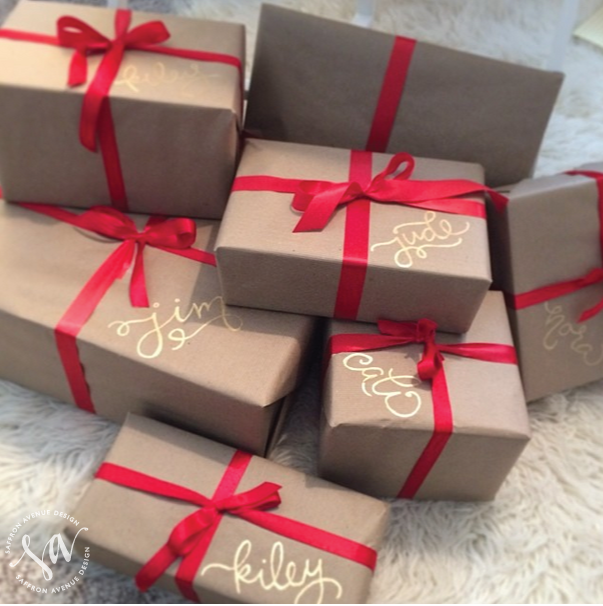 Red ribbon, a gold pen and good hand writing is all you need to create this simple yet elegant look from Saffron Avenue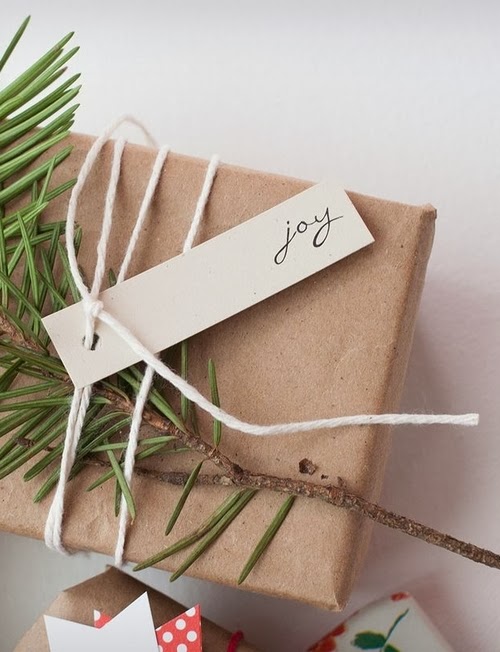 Keep it organic with some twine and fresh foliage. Image from Style Logistics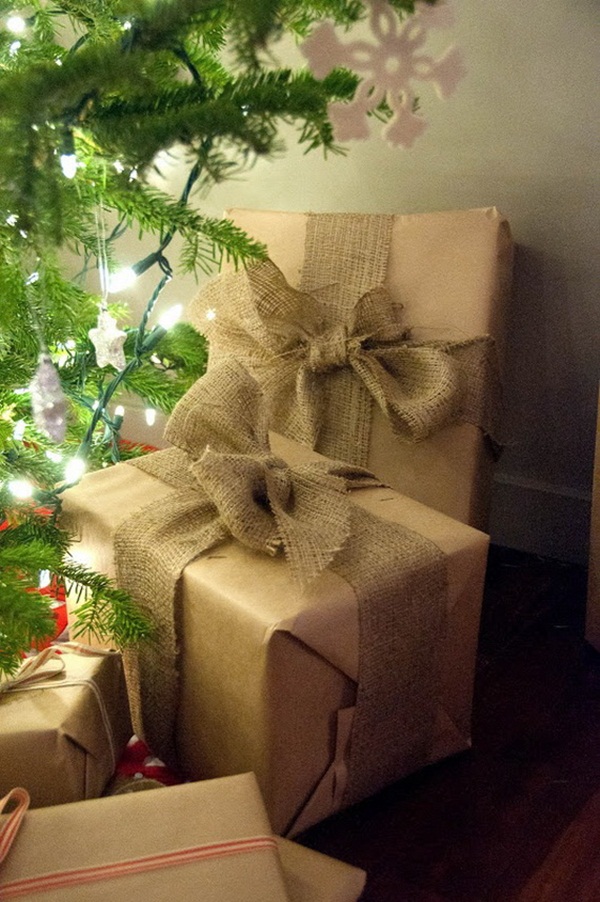 Another organic theme but this time using simple hessian ribbon.  Stunning! Image from Stylish Eve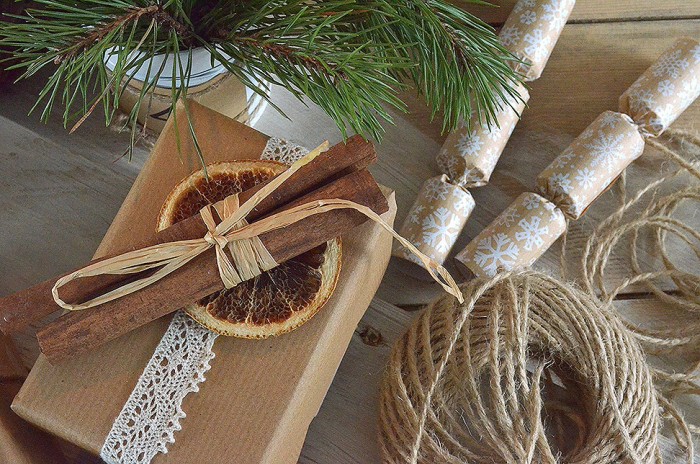 And nothing says Christmas like the scent of cinnamon and dried orange.  Heavenly.  Image source: ao life
And finally, here's the little video I promised you on how to tie the perfect bow.
I'm really loving this idea so family and friends, don't be surprised if you get something like one of these from me this year.  Might be best not to open it though, the wrapping could be the best bit  🙂  🙂