I'll be honest, I was never a big fan of the use of brass in interiors, much preferring the sleekness of chrome finishes. In fact I always found the shininess of brass to be a dated and dare I say it a tacky metal.  😳
But lately I'm beginning to develop a little crush on this shiny alloy.  Which is probably just as well as metals such as brass, copper or bronze are experiencing somewhat of a resurgence and (thankfully) a tasteful rebirth since the 1980's brass that I so unfavourably remember!
It seems the days of that shiny tacky metal are long gone, replaced with a sophisticated glam that enhance todays interiors.
Here black gloss cabinets, marble worktop and brass fittings give a perfect blend of old meets new. Image from Brunch At Saks
Subway tiles and brass fittings gives a classic New York feel to this bathroom.  Image from Dusk Jacket
The mixture of different metals, reclaimed wood flooring and modern cabinetry work really well together in this kitchen from Houzz.com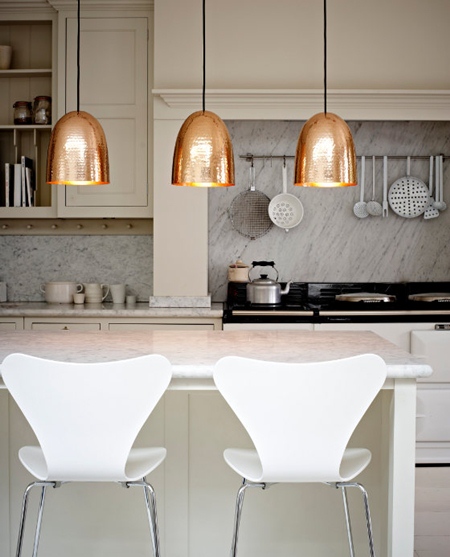 I must say I do love these hammered copper pendants lights from Dunlin.
You couldn't but feel like a movie star while soaking in this beautiful copper bathtub designed by Michael Coorengel and Jean-Pierre Calvagrac. Image from
Elle Decor
Aren't these door handles from Alessia Garibaldi just simply stunning!
A gilt brass mirror and gold lamp tables blend beautifully against the contemporary black and white furnishings. Image from Pinterest 
A brass clad kitchen island designed by architects Sandell Sandberg.  Oh God, think of the cleaning! Image from Remodelista
So tell me, are you leaning towards the elegant charm of brass, copper and bronze or do you still prefer the coolness of chrome?