Carrying out renovations to your home can be a traumatic experience (often for the designer, as much as the client).  But they are always worth it because it is so rewarding changing a space so that it is not only more beautiful, but also more functional.  So today I thought I'd share some before and after pics of some renovation projects I've worked on.
In this kitchen the 3 doors behind the breakfast counter rendered most of the space unusable.
Moving the outside door (shown on the left) to the other end of the kitchen and opening the dining room door into an arch, increased the floor space.  Moving the breakfast counter to the other side of the room also allowed for an easier flow of traffic entering the room.
Here's the kitchen from the other end of the room.
And after the transformation.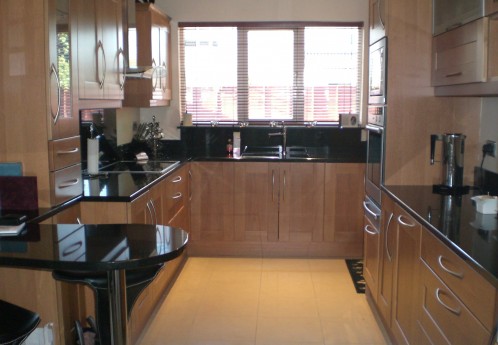 The dark carpet and wood panelling behind the stairs made this hallway dark and dated.
The panelling was removed and a beautiful new door and oak staircase was fitted.  The carpet was replaced with lovely polished porcelain tiles.
Here the original wardrobes were removed and built in wardrobes were built on the adjoining wall.
You can barely recognise the old room layout.
Not all projects need to be major renovations though.  This room was more of a dumping ground than a bedroom.
However no renovation work was need to turn this mess into a lovely guest bedroom.
If you have a space you want transformed, contact me through my website and I'll be delighted to discuss your options with you.