I don't know about you, but I have so many necessities stuff in my bedroom that I need everyday before I can face the world.  Toiletries, make up, hair dryer, brushes, beauty products, clothes, shoes, belts, buckles, books, the list goes on and on.  So much of it that bedroom storage is now a First World Problem in my life  😛
As a Virgo I believe there has to be "a place for everything and everything in its place".  If you know where something goes, you'll be more likely to put it back where it belongs.  Otherwise you'll  just drop it somewhere and tell yourself "I'll find a home for that later".  And if we're honest, the find a home for it later never happens! It gets dumped and clutter leads to clutter and before you know it, there's a pile of "I have no idea whats in there" built up in the corner.
But finding a "home" for everything isn't as easy as it sounds.  How do we keep them our bedroom essentials accessible AND have a calm peaceful clutter free bedroom space.
Well here are my top bedroom storage tips for hiding life's essentials.
Shoe Storage
I have little tiny size 3.5 cindy feet and my husband wears a size 10 so those shoe racks with the rails just don't work in our house! My shoes just fall down between the bars and end up on a heap on the floor. Cue Ikeas Billy Bookcase.  This little gem is perfect as it's only 28cm deep so it doesn't take up much floor space. Plus the shelves are adjustable so you can adapt the height for shoes, boots etc.
Bonus tip: if you store your shoes heel to toe (ie, one with the toe facing out and the other with the toe facing in), you'll fit way more shoes on the shelf.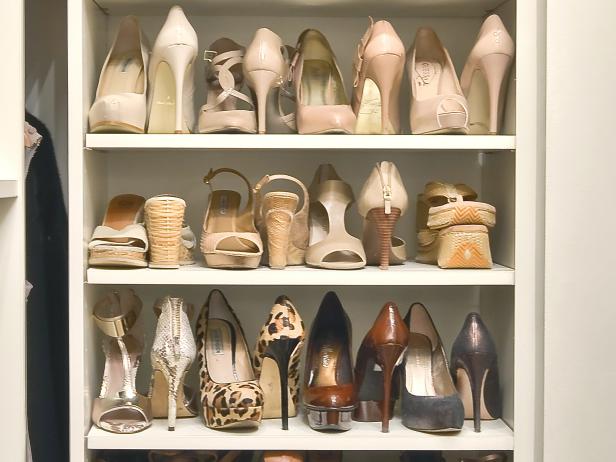 Another great way of storing shoes if you're tight on space is under the bed.  Yes I know we've all done that and it's no fun crawling on the floor searching for a matching pair.  But you can organise your under bed shoe collection.  Simply add rollers to the bottom of some plastic trays and slide them out when you need them.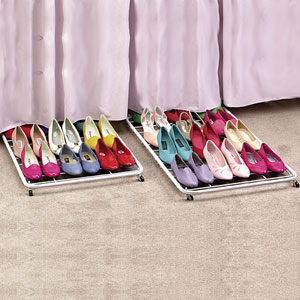 More Shoe Organisers – but not for shoes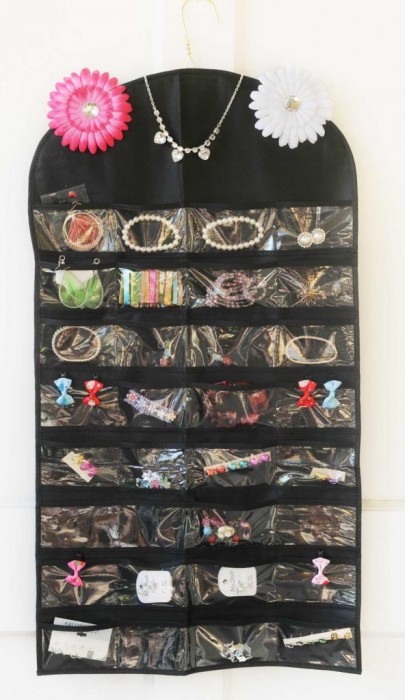 I love these babies!  I use these all over my house. Probably the only thing I don't use them for is for shoes 🙂  I have one in the utility room to house cleaning bottles and one in the hot press for face cloths and small travel items.  The best one by far is a small one on the inside of the cabinet door under our bathroom sink! It's perfect for storing tweezers, small scissors, cotton buds, hair clips and tie backs, lip balm…… anything small that tends to get lost when stuffed in a drawer.  Also if you attach velcro to the bottoms corners of the organiser it will stop it from flapping when you open and close the door.  Works great especially when storing heavier items.
Nail Polish Rack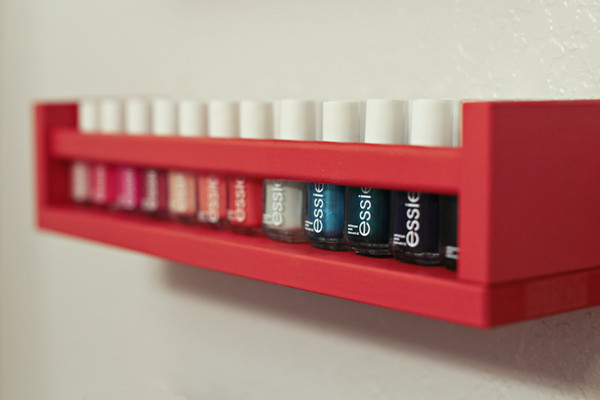 A girl can never have enough nail polish, so how about making a colourful little design feature out of them. Spray paint the Ikea Bekvam spice rack in a vibrant colour and boldly display your talon collection.
Hairdryer
My hairdryer is my life saver.  I swear I couldn't possibly put a toe outside the door and face the world if I haven't blow dried my hair.  Trust me you do not want to meet me if my hair has dried naturally.  But storing my hairdryer so it's not just strewn on the floor with the cord dangling has always been a problem for me.  Until I realised that it fits perfectly inside a wire magazine rack.  Simply screw the rack to the door or the side your dressing table and it's out of sight, but close to hand.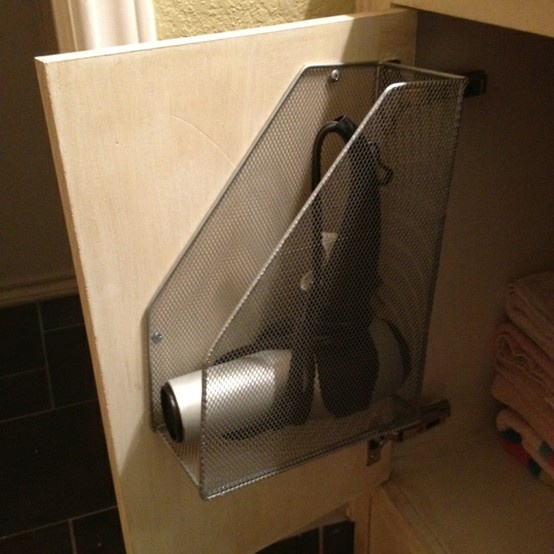 Storing Linen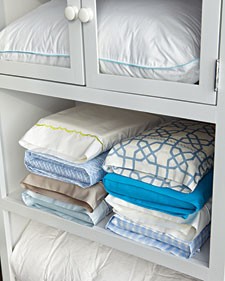 This little gem has saved me hours of stress rummaging though the linen closet trying to find a set of matching sheets. Store duvet covers and sheets inside their own pillow case and never have a mismatched bed set again. Not only is it a time saver if you have visitors coming at the last-minute but it also keeps your linen closet clutter free and tidy.
Storing Scarves
Not that winter is closing in, a warm and cosy scarf will be part of our daily outfit. One quick way to organise them is to attach shower rings to a hanger and simply hang them in your wardrobe.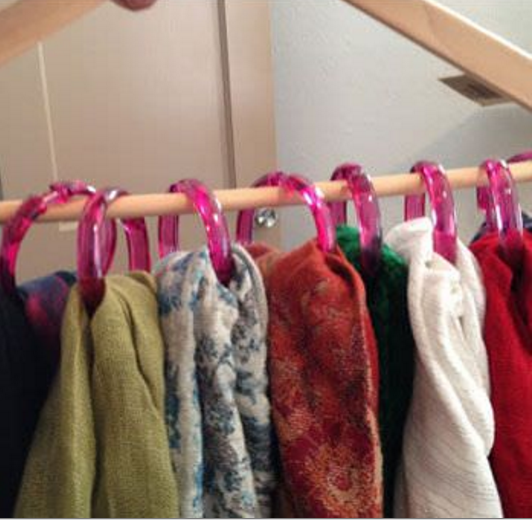 Or I love this DIY idea using clothes pegs.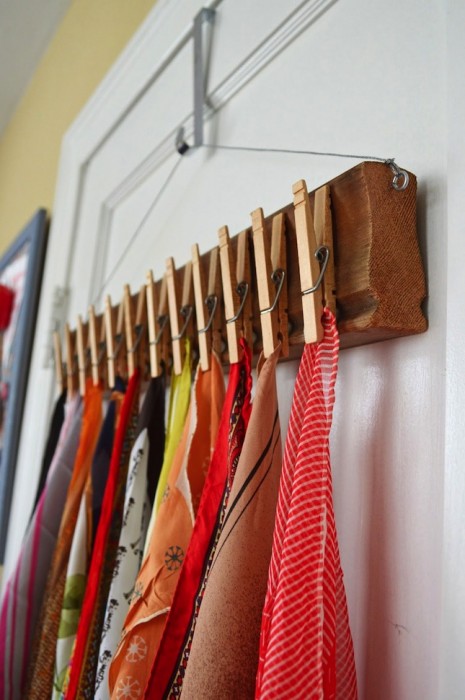 Jewellery Storage
We love our bling and while our jewellery looks lovely around our neck or on our wrist, it can lead to a chaotic mess when trying to store it.
Hang a mirror on hinges and add hooks behind to organise your jewellery and keep it out of sight.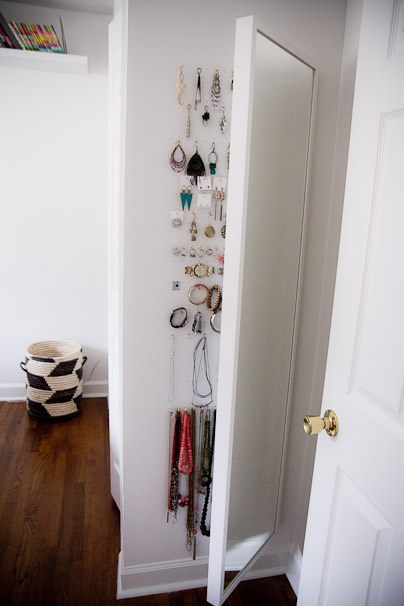 Another great way of storing jewellery is to wall mount a plastic cutlery tray.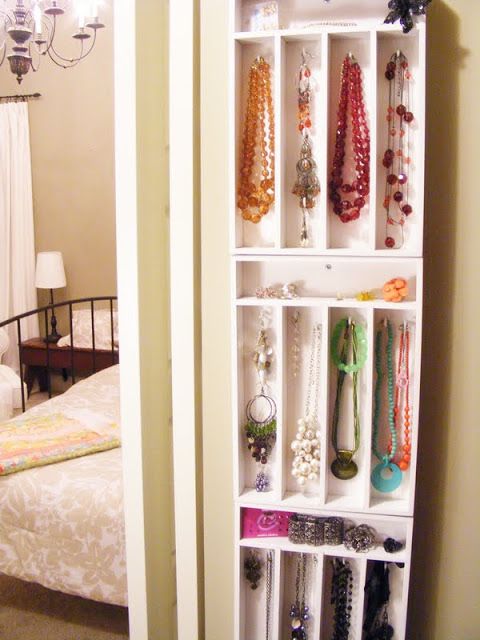 Or you could cover a small cork board in fabric, frame in a pretty frame, screw in some small hooks and viola….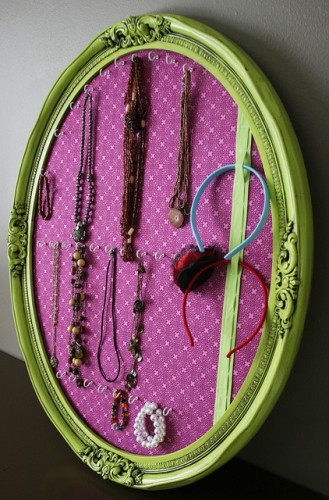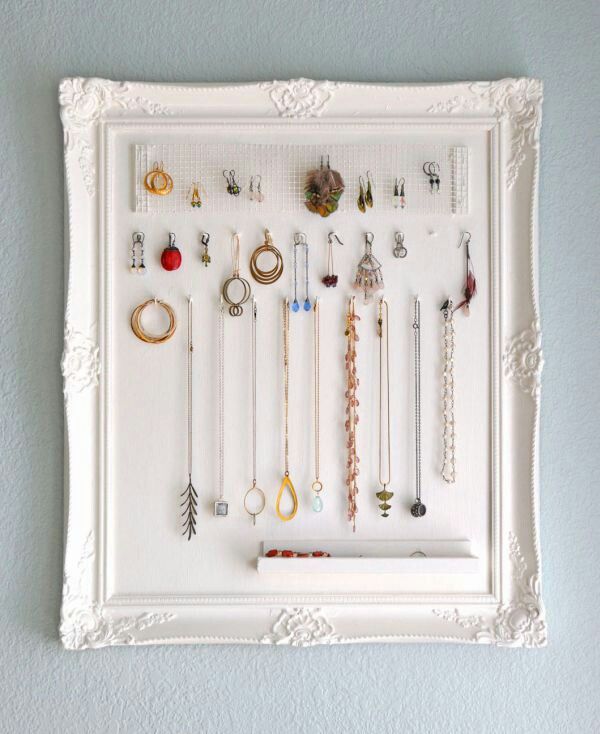 Hide your reading material
To keep your beside table clutter free, attach an Ikea Picture Ledge to the back of your headboard to store your reading material.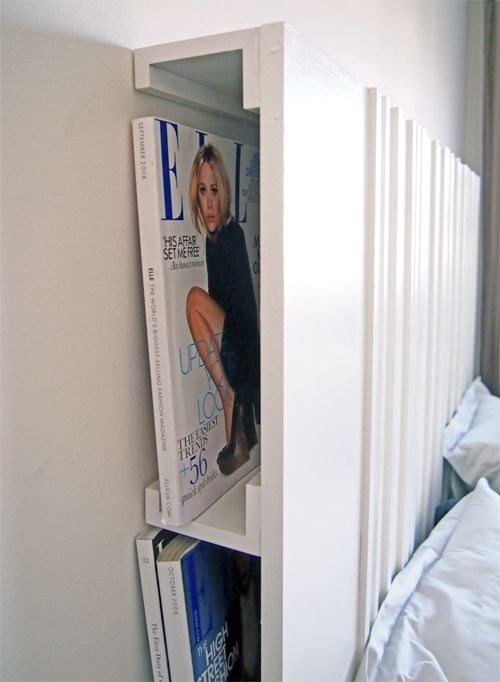 How do you control the clutter in your bedroom, have you any bedroom storage hacks you'd like to share? Leave a comment below, I'd love to hear them.