For most of us the nearest we come to a large spacious bathroom with a deep full length bath, his and hers sinks and warm fluffy towels is when we visit a luxurious hotel.  Unfortunately a lot of bathrooms in today's modern homes are so small you couldn't swing a cat in them (I never understood that phrase, why would you want to swing a cat!!!)
But small doesn't have to mean poky.  With clever use of light and reflective materials, you can achieve some amazing results.  If you have a small bathroom, don't fret because here are 12 of my favourite small bathrooms.
I love this bathroom from Roomenvy it feels so tranquil. The pure white design gives an element of simplicity.
The sky light gives this small bathroom a spacious feel.  They even found room for the his and her sinks 🙂 Image from HousetoHome 
I like the shelving idea in this small bathroom I spotted on Pinterest.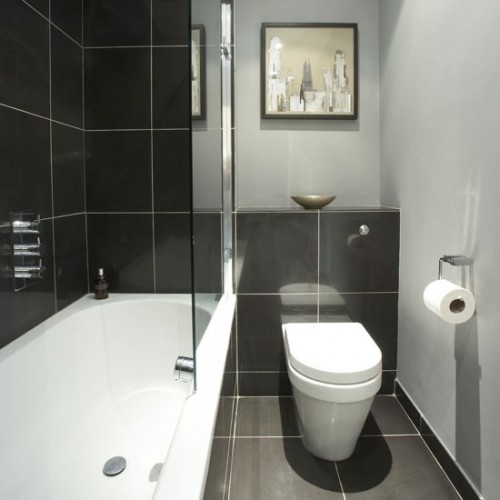 Small and sleek.  The black glossy wall and floor tiles and the recessed WC work very well in this narrow bathroom.  Image from 25 Beautiful Homes
I love the clean lines in this modern bathroom photographed by Architectural Photographer David Churchill
You can even add some fun to your design. Trombone sinks for example……..
Or a bicycle maybe 🙂
The tiled accent wall works very well in this small guest bathroom. And I love love love the mirror and frame over the WC. Image from houzz.com 
Eduardo over at The Designer Pad transformed his teeny tiny bathroom which amazing results.
The slimline sink and WC maximise the floor space in this narrow room.  The mirror behind the WC also helps to give a sense of space.
A bedroom closet was converted into a beautiful en-suite.  Image from Houzz.com
Bright quirky accessories bring this otherwise bland bathroom from Apartment Therapy to life.
***    ***    ***    ***
There is no reason that you can't have a stylish bathroom even if you are tight on space.  Follow these tips to maximise your space and design appeal.
Tile right up to the ceiling.  This will help to draw the eye upwards.

Using large mirrors and glass shower enclosures to increase the feeling of space.

A floating WC and sink will give the illusion of a greater floor area. 

Pick one focal piece.  It will draw the eye and add personality to your space.

Clear the Clutter – Optimise as much space as possible with clever storage.
For more tips on creating your own bathroom haven, see my Bathroom Bliss article.