I don't know about you but I've always yearned for a luxurious spa bathroom, complete with stand alone bath and a walk in power shower.  While most of us don't have the space for a hotel spa, that doesn't mean we can't achieve bathroom bliss.
The bathroom may be the smallest room in the house, but there is a reason it's the only one with a key in the door!  It's so you can create your own little haven.  A place where you can soak in a long soothing bath, light some scented candles, have a nice glass of wine and switch off from the world for a little while. 
To create your prefect retreat, there are 3 necessary elements…… Surroundings, Sight and Smell.
Surroundings –
First of all, it has to look visibly appealing!  Otherwise you won't want to go in there.
Pretty vintage bathroom from House to Home I love the collection of mirrors on the wall.
This zesty lime bathroom from House to Home would make sure you start the day with a zing!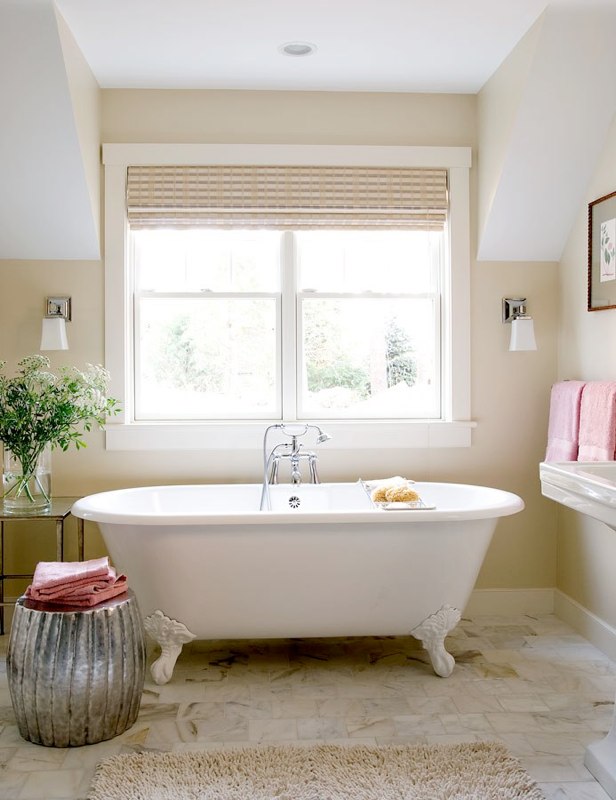 Sight
Hide the clutter. As necessary as toothpaste, shampoo and shower gel are, they are seldom pretty.  Keep the essentials out of sight and use decorative shelving or alcoves to display pretty perfume bottles, toiletries or towels.
Get creative with your display options.  I love the way these magazine racks are used for towel storage.  Image courtesy of Better House and Gardens
Here a decorative metal bucket is used to great effect to store toiletries.

Utilise the wasted space at the end of the bath.  Fit tilt out bins to store towels, toiletries etc out of sight.
Glass shelving increases a rooms sense of space and light and the shelves blend seamlessly into the wall.
Smell
There is nothing more relaxing that a nice long hot soak in the bath.  Add a few drops of essential oils in the bath water and the effect can last for hours.
Use candles and aromatherapy oils to create your spa experience.  Calming scents, soft candlelight and big fluffy towels will transport you from the bustle of your household to a restful retreat (even if you are only at the top of the stairs).
Little tip….. always keep matches handy in the bathroom cabinet.  Nothing will ruin the mood more, than running around the house half naked looking for a box of matches!
Remember less is more.  Simplicity is the key particularly in a small bathroom.  Stick with a simple colour scheme, think carefully about your storage, then light the candles and relax…..