I recently featured as the guest designer in the Irish Examiner's Property and Interiors supplement.  The feature is a Q & A article where the designer is invited to answer questions sent in by readers.  I have a similar section on my website & frequently receive emails from readers looking for advice.  Up to now I have replied to these mails privately but following the Irish Examiner piece, I thought it might be fun to feature some of these questions as a regular segment here on the blog.
To start us off here is an email I received from a lady in Tipperary looking for some colour suggestions for a nursery.
Q:  Hi karen, was wondering if u could suggest a colour scheme for a nursery, i dont know what im having, im putting panelling around the room which needs to be painted but ive no idea what colur. its south facing with one window. thanking you – E
A: Thank you for your email and congratulations on your imminent arrival, I hope all goes well for you.
Regarding a colour scheme for the room, shades of pale yellows and green are great for a non generic space.  They can be matched with both blue and pink accessories which will change the look of a space quite easily.  Shown below is an image of Minnie Drivers nursery for her son Henry.  You can see how the only "boyish" elements are brought in through the artwork.  Change those pictures for little pink and green fairies and this room easily becomes a palace for a little princess.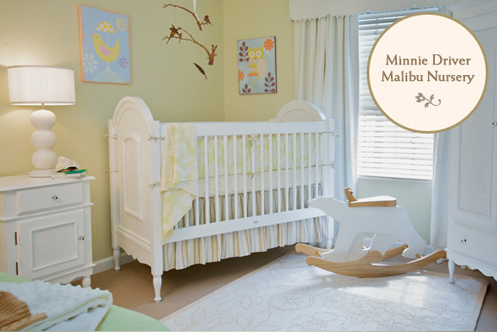 Wall decals are a another way to instantly bring a bit of character into a room.  And the great thing about them (apart from being cheap) is that they can easily be changed as your child grows.  Here is a link to a post I did a while ago using wall stickers in children's rooms.
Regarding the wood panelling, I personally don't think you can beat white woodwork.  Especially in a room such as a nursery.  Not only is it clean and bright but it will also blend in easily with any furniture you will need as white is a popular choice with nursery furniture manufacturers.
Also don't forget to bring plenty of soft furnishings into your scheme to soften the effect.  Garrendenny Lane do a lovely collection of children's rugs, cushions bed linen etc.
Finally as the room is south facing it would be well worth investing in black out blinds or curtains for the windows.
I hope I've been of some help and best wishes to you and and your new arrival.  And please send me a photo and let me know if it's a little boy or girl.
******************************
This post is part of my Ask The Designer series.  Ask me a question and I'll do my best to answer it.  Include as much information as possible, maybe even send me a photograph if you think it will help.  Want to play?  Get in touch by sending me an email,  use the contact form  or just leave me a comment here.