This week, Jimmy Kelly an Irish artist living and working in Kilkenny shares his insights on how and where to display original artwork in your home.  You can check out more of Jimmy's work at Jimmy Kelly Art
Three things worth considering first
We all know the feeling: You see a beautiful painting across a crowed room and you fall instantly in love with it. It takes a while and some skilful negotiation but you manage to make it yours. A new relationship has begun but like all relationships it will require compromise and consideration, particularly after the initial honeymoon period of first making it yours.
Ideally you will want to hang it somewhere it complements rather than detracts from your existing décor. But an original painting should do so much than that. It should say as much about you as the artist who painted it. It will inform your living space and hopefully bring an overall effect of balance and harmony.
A few primary considerations will help you negotiate successfully the transition of the piece into your home.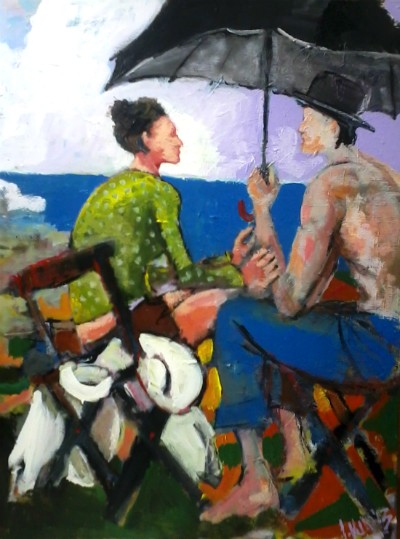 To hang or not to hang
Hopefully you will have given this some prior thought before being swept of your feet, but a large painting demands plenty of open wall space. It won't work wedged into a corner or in the cramp confines of an alcove. The painting won't be happy and neither will you, in fact you may well avoid looking at the painting altogether and be prone to the dreaded buyer remorse. Some due consideration is necessary, have a reasonable idea where you could hang the painting that would enable it to breath and fill the given area.
Let there be light
Another helpful consideration is to ask yourself is, do you want to make the painting the central point in a room or just a piece to simply enhance the present décor. If the former, you can manage this with controlled lighting such as track lighting or individual picture lights that can accentuate the piece.
Ideally the painting should not be hung in direct sunlight, because over a period of years it will have an adverse effect on the colours. The simple act of pulling the blinds if the painting is in full sunlight during certain times of the day can also help preserve its quality.
Trouble in the air
When it comes to original art we also have to consider environmental as well as design factors in deciding where the piece should go. Museums and galleries are generally cool, well ventilated areas for good reason.
For example, the painting might look fabulous over the mantle piece, but if there's a roaring open fire in the hearth for three months of the year, another location should be considered. Paintings can also be vulnerable to mould and mildew. Moisture high areas, such as near bathrooms are not great places to hang original art as it can lead the paint to crack
An original painting is for life. It can be a conversation piece and become an integral part of your life and your home, as well as something to pass on to loved one. It can become part of your family's greater story. A painting is also very functional, in that it can create a new sense of élan in a room and lift existing colours and tones.
Like the best relationships it's grounded in the realities of practical living. It's worth the effort to giving equal thought to the practical as well as the emotional considerations when choosing that special piece and where to place it. If you do, you won't go far wrong in your life long special investment.
Happy Hunting!