If the last few days are anything to go by, we could be in for a scorcher of a summer this year!  I don't believe that Mother Nature would be so cruel as to give us a taste of some nice weather and then deprive us of a summer yet again.
So call it naive optimism or a gut feeling, but I am so sure that we are going to have beautiful weather this year that I have put together some wonderful table decorations and centrepieces to give your outdoor entertaining a touch of glam!
Set the scene for a charming tea party with vintage china, fragrant lilac stems and some colourful chairs. You could even hang a chandelier from a branch for a touch of romantic grandeur although that may be a step too far 🙂
Stop napkins blowing away in the breeze by placing lemons on them and use them as a place cards .  Write your guests name on them for a personal touch.
Soft lavender hydrangeas in a crisp white pot perfectly match this quilted tablecloth and white dishes.
For a rustic look, place simple groupings of flowers into old cans painted in pretty pastel colours.
Don't toss broken flowers too small to fit in traditional-size vases. Gather a bunch of these tiny florets and place in small containers, such as egg cups.
I'm not exactly a domestic goddess when it comes to baking.  Lucky for me shop bought cupcakes can make a lovely centerpiece when displayed on a vintage cake stand.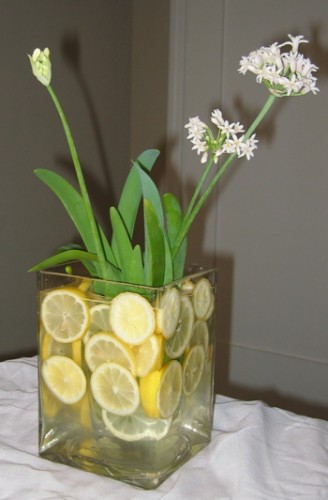 Designed for a wedding centrepiece but this idea from Do It Yourself weddings would work really well on an outdoor table.  Add sliced lemons to a simple floral arrangement for an amazing effect.  Insert a smaller vase inside the first for the flowers and slide the slices between the two. The easiest option though it to use florist's foam to insert your flowers stems into and then slide the slices between the foam and the glass. Cut your foam to be just slightly smaller than your vase so the slices fit and stay put.
Source: Celebrations.com
Decorative summer buckets make great containers for all kinds of things.  Fill them with chips, veggies or breadsticks.
All we now is for the sun to shine.  Over to you Mother Nature…………