Accent or feature walls are a great way to inject interest and boost life into a design scheme.  They're a great way to add colour and vitality to a space without it being overpowering.
Accent walls work very well in bedroom areas. A bedroom should be a calm restful space and a busy design won't help induce a restful night.  Stick with an understated theme and add pattern and texture to the area behind the bed to frame the sleeping area and keep the room from looking dull and lifeless.
I really like how the designer has used the wood flooring as panelling behind the bed in this image from Houzz.com.  Very effective.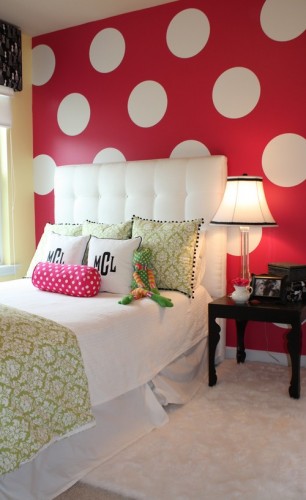 This wall paper would be perfect in a teenage girls room.  Check out my posts A Room Fit For A Tween and Decorate a Child's Room On A Budget for more decorating ideas for children and teenagers.
This bold floral pattern wall paper adds style to this kitchen. A clear acrylic sheet is fitted over the paper to protect it from spills and splashes. Image from HousetoHome
The dramatic wall paper is repeated under the breakfast counter.  Although I'm not sure how it would stand up to scuff marks and kicks.
Create a dramatic dining room with this Rose and Black Wallpaper from Sanderson. Team it with black painted walls, rose velvet upholstery and glamorous accessories for a truly decadant look. Image from HouseToHome
Accent walls don't need to be dramatic. Sometimes it's as simple as painting one wall a different colour.
Painting a single wall in hot pink adds the wow effect to this otherwise neutral scheme. Image from HousetoHome
It's not often that the feature wall is used to tone 
down
 the colour!
The Avalon Wallpaper by Thibaut is used to tone down the sizzling orange walls in this bright modern dining space. Image from House to Home