Every room needs a focal point to make an impact and add interest to the space. Whether you have a small space and want a design feature that's not too overwhelming, or a large space that needs drama, a large blank wall can be the perfect canvas to show off your creativity.
Here are 7 great ways to big up a blank wall.
Wallpaper
Wall paper is probably the most popular option to make a statement in a room. A striking paper can bring life to a neutral space without it being overwhelming.
This wall paper by Prestigious Textiles brings a splash of blue to this otherwise white dining room.
A neutral bedroom is brought to life with a red feature wall. Image from Emerald Interior Design
If you have a large space, go big and bold like this stunning feature wall in Abigail Ahern's London home. You can see the full house tour over at Apartment Therapy
Play with paint
If wall paper is not your thing, try playing around with some paint effects to create your focal point.
This entrance hall was meticulously hand painted by Kate over at Smarty Pants Paper.  It took her about 20 hours to complete but you've got to admit it's totally worth it.  Pop over to her blog for details of how she did it.
A wall painted in blackboard paint adds interest and some fun to this kitchen area. Use it for recipes, quotes, messages from the kids, anything you like. Image from desire to inspire
Texture
Texture doesn't just come from the soft furnishings in a space. Hard textures can have just as dramatic an impact.  Think exposed brick, reclaimed wood or even tiles.
The dark wood panelling in this nursery is a lovely contrast to the lighter tones of the cot and shelving. Image from The Huffington Post
The exposed brick wall and wall sconces add interest to this long entrance hall. Image from Houzz.com
Mirrors
A large mirror not only makes a statement but can also help to introduce light into a room and give the illusion of more space. 
Reflective surfaces and a large mirror make this narrow dining room seem bright and airy. Image from Emerald Interior Design
The large oversized mirror in this dining room not only shows a lovely reflection of the chandelier, but also reflects the painting and staircase in the entrance hall. Image from Houzz.com
Artwork
Picture galleries are a great way to fill up a large wall and introduce personality into a room. I've written several articles on gallery walls, check here and here or have a look at this gallery wall I created for a client a while ago. However at the risk of repeating myself………..
While a tv on the wall of a bedroom serves a purpose, you don't want it being the focal point in the room. Here photography surrounding the TV does a good job of blending it into the space. Image from Suze Interiors
This colourful gallery pops against the white background and adds height and interest to the space. Image from 1 Kind Design
If you don't want to cover your walls in several frames, one image can also have an impact. This photo by Peter Margonelli has been made into a grid in the living area of an apartment designed by Matthew Patrick Smyth Image from Elle Decor
Headboards
A large wall mounted head-board can create a beautiful backdrop for the bed and provides a wonderful statement in a bedroom.
This hot red and pink headboard reflected in the two mirrors sets off the colour in the room beautifully. Image from House and Garden
This designer headboard and bed would make a statement in any space. From Head Over Board
Bookcases and shelves
Bookshelves are another popular way of highlighting a large wall and keeps your prized collections on view and intact at the same time.
However as functional as the trusted Billy Bookcase is, you'll need to think a little outside the box if you want to make a statement.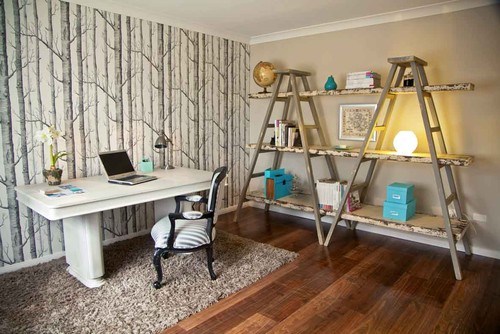 I love this bookshelf fashioned out of a pair of old painters ladders in this eclectic home office. Image from Emerald Interior Design via Matilda Rose Interiors
This book-case surrounding the tv keeps all the dvds and games together and fills in what would otherwise be a large boring space. Image from Houzz.com
Open shelves work very well against a strong background and can make the contents pop. Image from Bold Bright and Beautiful
If you enjoyed this article you might want to check out some of my other posts on design inspiration for your home Shabby Chic Charm; Accent Walls That Make An Impact; and 20 Family Photo Ideas You're Going To Love