We have a shoe rack press thingy in our bedroom.  The problem is that my husband wears a size 10 shoe whereas my little cindy feet are only a 4.  As a result his shoes fit nice and neatly on the bars, while mine fall down the gaps and end up in a mess at the bottom of the cupboard!
I'm sure I'm not alone in wishing for some pretty yet functional ways to store my shoes.  So as it's my mission in life to please you folks, I have scoured the internet and found some seriously sexy ways for you to store your Imelda Marcos collections 🙂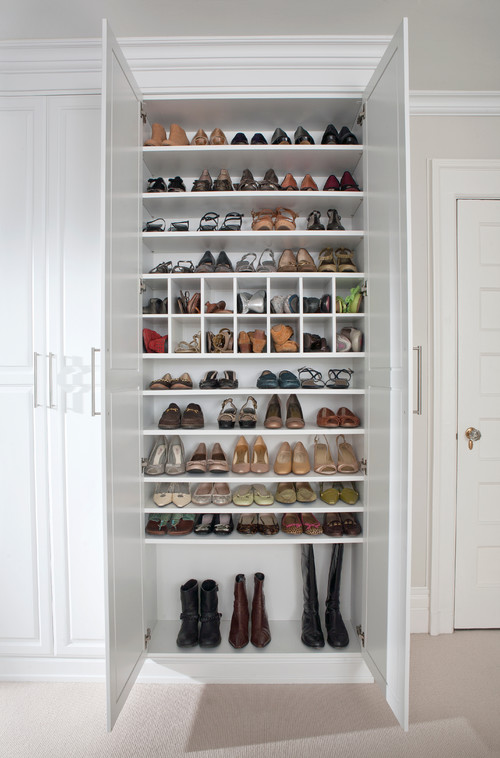 An entire cupboard is given up for shoe storage in this stunning design from houzz.com. I love how the different shelves and cubbies cater for different shoe styles.
Recycled wooden crates are stacked to create this clever and eclectic shelving system in this bedroom. Image from HousetoHome.co.uk
This Lazy Susan shoe carousel from ShoeCase is a great space saving idea.
Make your shoes a design feature.  This ladder shoe storage from eight hundred sq. ft. blog
More ladder storage.  An old ladder, painted and cleaned up looks great beside the bed side table.  Image from Apartment Therapy
Or how about seating that doubles up as storage.
The fabulous  Lilly Pulitzer's ottoman has a hinged lid concealing 16 pockets for shoes, plus loads more space for bags, scarfs etc.
If your shoes are simply too pretty to hide away, why not display them in an beautiful antique display case.  Image from This Is Glamorous
How about this for a pretty and cheap quick fix.  Wrap an  empty wine box in wrapping paper.  Very useful for light runners and plimsolls.
How about your home?  Do you have any clever storage solutions for your Imelda collections?