Growing up sharing a bedroom wasn't an issue in our house there was just my brother and myself. I had my own girlie girl room, while my brother had what can only be described as a chaotic disaster zone! His fault not my parents, I might add 🙂
But what happens when there are more kids than bedrooms and siblings need to share?
If sharing siblings are the same gender, close in age and share similar tastes, then mum and dad don't shouldn't have a problem.  It's when you have to mix up ages and genders that problems can arise. So how do you create a bedroom space for 2 (or more) where all siblings are happy?
The basics of any good bedroom design is a function, furniture layout, adequate storage and aesthetics (ensuring that all the elements in the space work in harmony with each other). Getting these elements right at any time can be difficult, but trying to achieve it for different ages and personalities can be a daunting task.
That's where some creative design choices and clever storage solutions are required.
We'll start with the easy ones.
Pretty in pink
Designing a space for little girls can be a lot of fun because there are so many colour combinations to choose from. Pink is the obvious choice but green, orange, violet, aqua and coral are wonderful colours in little girls rooms. Plus there is a myriad of cool decorative themes to choose from such as romantic, vintage, chic, etc.
I love this shared girls room from Project Nursery. The coral and aqua colour scheme works really well with the vintage bedding and that beautiful stencilled wall is just adorable. Also the monogrammed picture frames and pillows identify each child's own space.
Reversible duvet covers allow for each child to express their individuality, yet keep the room feeling cohesive and balanced. Image from Houzz.com 
I love everything about this room.  I love how the designer has mixed old and new in this gorgeous cottage style bedroom. The split level ceiling, the beds, stools and those window shutters are just the cutest! The bold graphic wall paper gives the room a modern twist. Image from Emerald Interior Design via houzz.
Boys will be boys!
There's nothing like a bit of bro love to encourage boys to play together in blissful harmony.
Image source: The Happy Housie 
How about this cool layout for 3 boys sharing. Image source: The Bumper Crop
Mixing boys and girls
Creating a bedroom space for a boy and a girl can be a challenge.  Start by choosing a non generic colour scheme that everyone can agree on.  From there try to unify the area with matching furniture and bring each child's personality in through the soft furnishings.
Mix up the bedding or "zone" an area to give each child their personal space.
Image source: sasinteriors
Image source: sasinteriors
Image source: Tip Junkie
A space for different ages
Creating a space for a toddler and a baby to share can be another nightmare. You need to accommodate a cot and a bed, both of which will be outgrown in a short space of time.  Also while you want the nursery side to look adorable and newborn, the toddler must have their needs and interests accommodated. It's also important that the space can adapt as the children grow.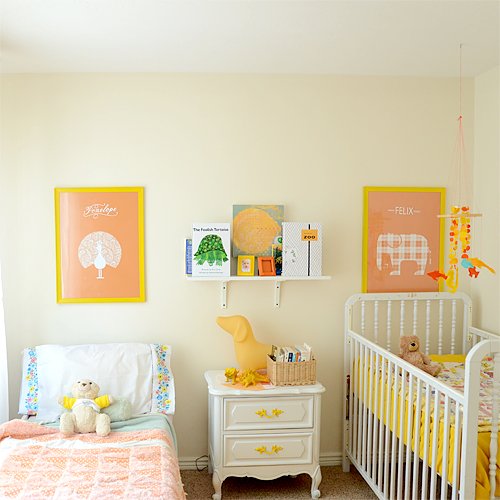 This adorable room that Melissa Esplin has created for her children certainly achieves everything. The vintage bedding gives a grown up feel to the "big side" while the colour scheme is still perfect for a nursery.
This fun motor room was designed by a mum over at Project Nursery for her 2-year-old and new-born. 2 little racing car drivers in the making here I think 🙂
One up one down
Traditionally bunk beds were the ideal solution for sharing bedroom space. I was never a big fan of bunk beds but some of these examples may change my mind.
This double/single bunk bed combo from Michael Abrams is only gorgeous.
Who say's blue and pink don't go?  In this image from BHG bold colours, polka dot bedding and a wall decal give this room a cohesive look without following a traditional theme.
How about this cool DIY bunk bed system for 3 from The Handmade Dress
I love the colour combo in this room from Houzz. Perfect for mixing boys and girls.
Personal space
Regardless of age or gender, it's important for every child to have an area which is "theirs". A room divider, furniture layout or even just mixing up the colour scheme can allow you to create separate zones within the same space.
Here built-in shelving offers the illusion of privacy. Each child has space to call her own, yet they are close enough to still enjoy each other's company. Image from Emerald Interior Design Blog via Houzz. 
Utilising corners is another great way to zone the room.  Image from Houzz
If dividing the room is not an option, use different colours for bedding or toy boxes.  Even dressers and shelves painted different shades or tagged with names can help to zone area's. If storage is tight, simply paint the drawers in a dresser in different colours to assign individual drawer space.
Image source evollt
Monograms are another great way to zone a child's space. These clever monograms from Grubtoe double as toy shelves so each child can keep their personal toys separate.
How do you achieve harmony if your children share a room? Leave a comment below, I'd love to hear your opinion.
I hope you enjoyed this post.  Why don't you pop over to my Pinterest page for more ideas for all areas of your home.  You can also like me on Facebook, or follow me on twitter.  For information on my Interior Designservices, please visit my website or click here to arrange a consultation.