Even if you're not an avid reader, a stylish bookshelf is a beautiful feature in any home. But why settle for boring symmetrical shelves when there is an array of modern, cool and even whimsical bookshelf designs to choose from.
The Typographic Bookshelf by mebrureoral encourages you to read more by organising your books into  "has been read" and will be read" sections.
The booktree by Gef Mobili available in ash, ebony, tineo, and a white lacquered finish would make a very attractive addition to any room.
If it's too much effort for you to walk from the bookshelf to a seat to sit down and read, then maybe you need the Bookseat  The Bookseat, is a simple bookcase that playfully curves and becomes a seat.
Capture your eureka moment with the Wha Cabinet from Tembolat Guqkaev.  It's like a little light bulb going off in your head!
The Conceal Book Shelf by Umbra transforms your books into a work of art. Powder coated steel floating book shelf becomes invisible behind the stack of books.
Create an efficient use of workspace with the K Workstation by Miso Soup Design.  The curved shape creates shelving and desk space in one working unit.
The Kartell Bookshelf will not only hold your books, but the odd bottle of wine if you need some liquid refreshments while browsing.
The Kulma framing shelf quite literally goes around the corner.  Ingeniously the shelf can be hung either in the positive or negative side of the room.
Keep your night time reading close to hand with Dripta Roy's Dream Bookshelf.  Straight out of comic mags and up on your wall, this bubble will hold the tales you treasure and showcase the trinkets you cherish.
The Equilibrium Bookcase is a unique piece of furniture with cantilevered modules stacked upon each other at a single angled point.  It holds 160 lbs in it's different modules and allow you to keep books and magazines in a natural tilted position eliminating the need for bookends.
Make Your Own
If a designer bookshelf is a little beyond your budget, why not try making your own.
Turn a old cable reel into a rustic coffee table and book case.  Image from Emerald Interior Design Pinterest Board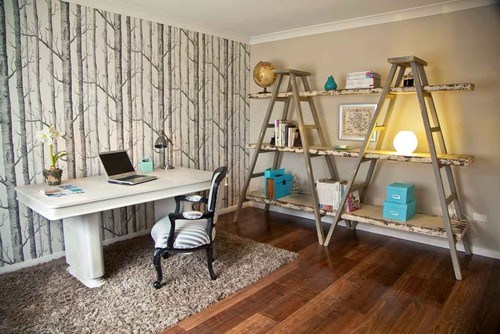 I love this bookshelf fashioned out of a pair of old painters ladders.  Image from Matilda Rose Interiors
Another clever re use for an old object.  Image from Pinterest
Attach a ladder horizontally to the wall to create an eclectic bookshelf.  Image from Demilked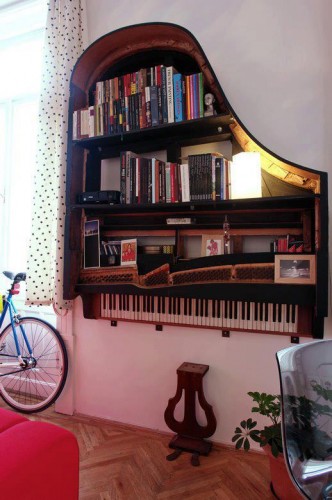 The Grand Piano bookshelf has been doing the rounds on Pinterest for a while now, I think I may have even shared it on my Facebook Page a long time back.  While I do think it is very cool and trendy looking, I can't help thinking that any DIY project that involves sawing a Grand Piano in half seems to be missing the point of up-cycling!
What do you thing, would you use any of these in your home?