One of my pet hates is coats and jackets thrown on the stair post or over the backs of chairs. Are you reading this husband of mine??? 🙂
In our climate unless you've got room for a cloakroom, a coat rack is a household essential. Thankfully we've come a long way from the old hat stand type monstrosity that once stood laden down behind the front door. Today there are countless options available on the market.  Or you could get creative and make your own.
A stained wood tree trunk with the branches as hooks makes quite the modern statement in this image from Houzz.com 
Encourage the kids to hang up their belongings and keep up with their busy schedules.  Win Win! Image from Make an Entrance – Big Ideas for Small Spaces on Emerald Interior Design blog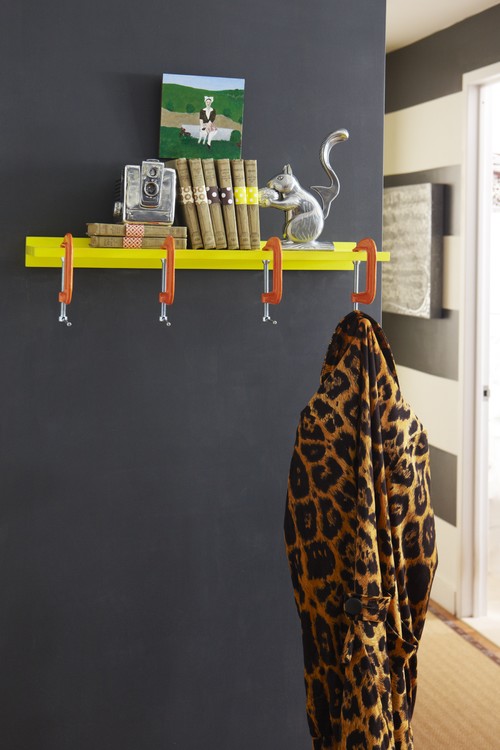 How clever and simple is this? Builders G-Clamps are attached to a brightly painted shelf for a eclectic fun display. Image from Houzz.com 
I know I said I hate coats over the back of chairs, but in this case I'll make an exception. This chair designed by Baita Design of Brazil invites you sit down, and hang up your things. I love it!
This is a great way to utilise an awkward space. A twisty branch hung along the slanted ceiling adds interest and gives an organic feel to this little corner.  Image from the beautiful home of Kelly Donovan
A quick and cheap fix is to simply cover a piece of wood with some colourful contact paper and screw in some coat hooks. Image from Design Sponge
If you have space by the back door, creating a little mud room area is a great way to prevent outside dirt from being traipsed around the house.  Image from Houzz.com 
As quirky as this coat rack made from old spoons is, I'm not sure if it would be sturdy enough to carry the weight of a wet coat.  I bet 
Uri Geller 
would have some problems with it 🙂   Image from
Twine Bindery
The Hookaboo coat hanger is very stylish and discrete and wouldn't look out of place in any entrance hall.  The hooks fold back into the wood when not in use.
If you crave the industrial look, this pipe and handles coat rack by Nick Fraser Design might just rattle your pipes!  If you're anyway good at plumbing you could probably have a go at this yourself 🙂
A very modern take on the traditional coat rack.  The Swedese Tree Rack can be floor standing or wall mounted.  It even comes in an adult and junior version so there is no excuse not to hang up your coat no matter how big or small you are!
I have to be honest, this baby doll coat rack which I spotted on Swiss Miss is waaaayyyyy to freaky for my tastes 🙂
Which is your favourite or are you like my husband and still prefer the back of the chair?  Leave a comment, I'd love to hear it.