Growing up the only place we saw a blackboard was at the top of the classroom.  And more often than not, I was the one standing up there writing repetitive lines for my latest misdemeanour!  😛
These days they can be used in a variety of ways to add interest and personality to your living space. Blackboards come in all shapes and sizes or you can create your own surface using blackboard paint or wallpaper.
Here's a few ideas to get those creative juices going.
When entertaining
Use blackboard paint on the back of the chairs so guests can easily see where they are seated.  
Or use chalkboard cheese boards as placemats.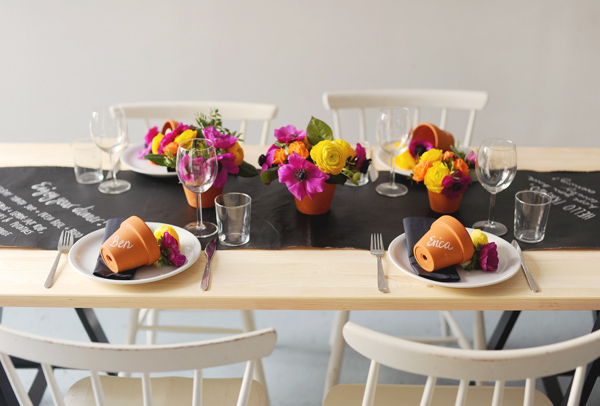 I love love love this DIY blackboard table runner from Hey Look  Use it to write your table settings, list the menu or just leave cute little messages for your guests
When working
Send critical messages to yourself with a blackboard behind your desk. Image from minimal desks
For fun
Give your guests something to do when they're visiting the smallest room in the house 🙂  Image from Daily Home Decor Ideas
For the family
Keep tabs on every family members schedule with a weekly planner.  You'll  have no excuses for not knowing what is going on with everyone in the family now!  Image from Franceso Mugnai
Paint a cupboard door using blackboard paint to keep tabs on what needs to be added to the shopping list. Image from houzz.com 
For kids
Paint a chest of drawers with blackboard paint and teach the kids to be organised and clear up after themselves. Image from Adrian Shellard Photography

Know your onions
Or chives or scallions for that matter.  These cute little chalkboard garden plant markers would brighten up any garden.
Or paint your herb pots to keep Rosemary and Basil from having a good Thyme. (I'll get my coat  😛  )