Continuing on my Christmas themed posts, I thought I'd give you some ideas for decorating your hallway.  I think the hall is one of the most important areas in a home to decorate as it gives your guests the first peek of the festive cheer that lies beyond!
1. Drape a Garland
Add a twist to you stair garland by hanging it on the bottom of the spindles instead of the handrail.  Add some sparkle by handing some glittering baubles from ribbon.  Image from HousetoHome
2. Winter Wonderland
Create a twinkling winter wonderland with fairy lights.  Image from RoomEnvy
3. Give it Wellie!
How cute is this?  Put the kids wellies to good use by using them to house crackers and little gifts for your guests.
4. Classic Chic
A very classic cream hallway with fresh flowers and candle light from MyDeco.com
5. Glam Up A Mirror
Dress up a mirror.  Candles set against a mirror catch the light and cast a seasonal glow.  Add a berry wreath to top the frame.
6. Keep It Country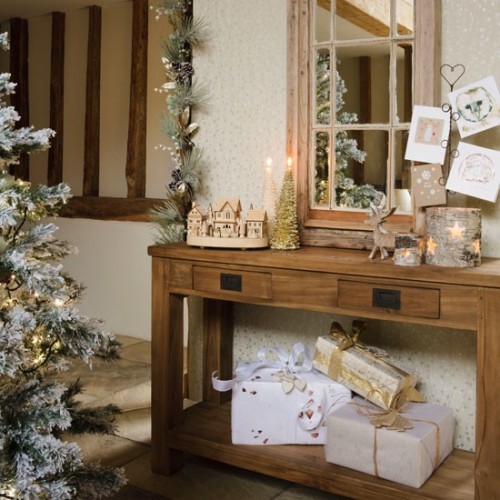 Dress a wood console table with rustic decorations and candles for a country look.  Image from Country Homes & Interiors
7. Cool As Ice
Use tones of white, silver and glass for an elegant look.  In this image from HousetoHome a simple sprayed wreath combined with glass baubles makes a stunning display against the white wood panelling.
8. Spell It Out
Classic Red & White accessories together with festive NOEL letters give this hallway from RoomEnvy a traditional feel.
9. Keep It Simple
A simple framed postcard and two hurricane vases filled with red and gold baubles is all it takes to transform this small console table.
10. Make An Entrance
Create a good first impression (and be the envy of your neighbours) by starting the festivities outside your home.  Light the way to the door with some candle lanterns and hang a Christmas Wreath on the front door to welcome guests.
***    ***    ***    ***    ***
Have you started your Christmas Decorations yet?  I've started round here but there's still lots to do.  I'll post a few pics of my work in progress in the next few days!